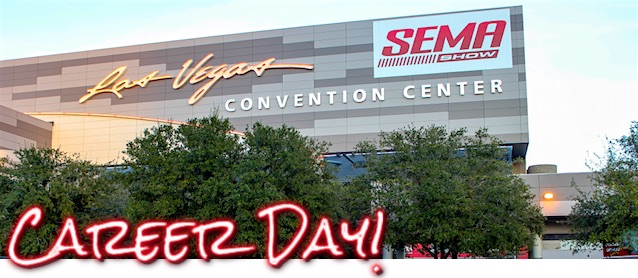 For the first time ever, SEMA will host a "Student Career Day" at its annual show — with the goal to "introduce high school and college students to the diversity of careers available to them in the aftermarket industry."
According to SEMA, the decision to host the event was made after an industry-wide study revealed that the vast majority of aftermarket businesses are in need of skilled employees, but don't know where to find them. A press release explains:
A recent SEMA Industry Employment Perspective Study found that 95% of companies in the automotive aftermarket industry will need to hire new employees with specific skills in the next five years. The No. 1 problem, according to the study, is that companies don't know where to look for the highly skilled employees they will need in the future. […]
While not technically a job fair (although students may come with their résumés in hand), it is an opportunity to pique the interest of bright, talented young people and for exhibitors to begin relationships that may lead students to begin their careers in the aftermarket industry with their companies.
No doubt, events like this are long overdue in our industry! Let's hope it continues.
The 2016 SEMA Show will be held on Nov. 1 – 4 in Las Vegas, Nevada. The "Student Career Day" will take place the day before, Oct. 31, from1:00 p.m.–3:00 p.m. For information on how to exhibit or attend, contact SEMA's Senior Director of Education Zane Clark at ZaneC@sema.org.