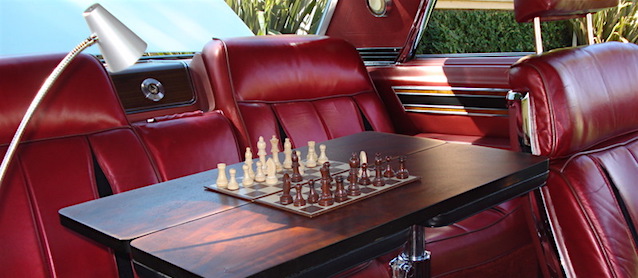 The 1960s proved to be a defining decade in American automotive history, especially in regards to luxury cars. During that period, rivals Lincoln, Chrysler and Cadillac were in constant competition to see which could manufacture the most opulent cabin. Of course, Cadillac always came out on top. But the rivalry spawned a number of unique interior features. Among them was the Chrysler Imperial Crown's "Mobile Director" package, which transformed the coupe's cabin into a mobile conference room.
Introduced in 1967, the "Mobile Director" package included front bucket seats that rotated 180 degrees to face rear passengers, and a front armrest that converted into an adjustable table. It even featured an office supply cabinet.
As for electronics, the cabin was equipped with a Stewart-Warner Datafax, two-way radiotelephone, television, typewriter and gooseneck reading lamp. To power it all, the Imperial Crown was outfitted with four power outlets.
Altogether, the package cost a hefty $597.40, which equates to roughly $4,300 in today's money.
Due to its price and limited appeal, the "Mobile Director" package didn't sell well and was canceled after just two years. However, its influence can still be seen today. Both swivel seats and tables are still offered by automakers, appearing in a range of vehicles, from the Dodge Grand Caravan to the Mercedes-Benz F015. As for the electronics, most of them are now obsolete. But that doesn't matter because cars are now more high-tech than ever.
For more cool articles about old car interiors, check out The Hog Ring's "Industry History" section.