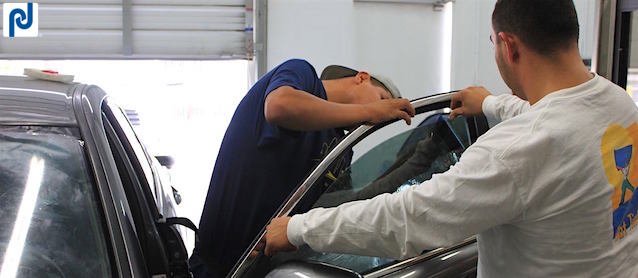 There are a lot of unique specializations within the field of automotive repair and customization. Fortunately, auto upholstery is one of the few that's multi-disciplinary. This makes it easier for us to lend our existing skills to other related, but non-upholstery, jobs — which can expand our list of services and increase revenue.
In a new series titled "Diversify Your Shop," we plan to explore these types of services. And we're kicking things off with an industry staple: Window tinting.
Auto upholstery shops have been offering glass-related services for decades. In fact, it's not uncommon to see it called out right in our names — Ontario's TM Custom Auto Trim & Glass being one recent example of a shop that does just that. Other shops that don't directly advertise glass-related work still repair windows, both glass and plastic, in convertible tops. Some even replace shattered sunroofs.
Auto upholstery shops that offer these types of services should also consider window tinting. Those that do, like Kustom Stitch in Knoxville, Tennessee, find that it's an easy transition.
"Smoothing out those wrinkles and air pockets, it's similar to upholstery. It's got to be wrinkle-free," said Jonathan Chasteen, owner of Kustom Stitch.
This eye for detail and knowledge of proper laying and spreading techniques putts trimmers and their associates at a distinct advantage in learning how to tint, says Spencer Robley of Johnson Window Films University in Carson, California.
"We teach a wide range of auto professionals how to properly apply window film. However, it's upholsterers that pick it up the quickest," said Robley. "No doubt, that's because of a shared skillset."
Johnson University, which has taught window tinting for more than two decades, offers two primary courses: 101 Basic Automotive and 201 Intermediate. The courses last five days each and cover everything from how window film is made to advanced installation techniques.
Auto upholsterers interested in adding window tinting to their list of services should seriously consider enrolling at the school. For a limited time, the tuition costs just $395 per course and may even be tax deductible. Best of all, the lessons pay for themselves after just a few tint jobs.
In fact, Chasteen said that his window-tinting service is so popular and profitable that he's looking to hire another full-time tint specialist.
"A lot of times we're doing a seat repair and the customer says 'while you're at it do the windows on my truck,'" said Chasteen.
"Sometimes we make more money in a week on tinting than upholstery."
For more information on Johnson Window Films University, visit JWFuniversity.com. To read more articles on how to grow your auto upholstery shop, visit The Hog Ring's "Better Business" section