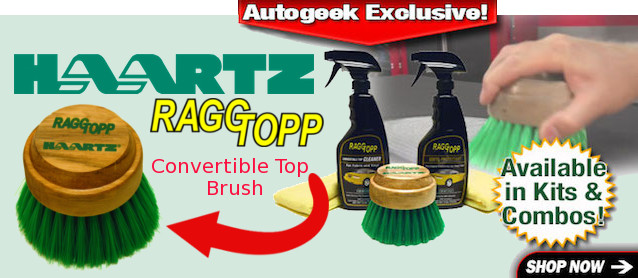 Earlier this year, we collaborated with The Haartz Corporation to publish two very important care guides for cloth and vinyl convertible tops. Since then, trimmers all over the world have downloaded and shared them with customers. Today, Haartz goes one step further by introducing its very own premium convertible top brush.
The RaggTopp Premium Convertible Top Brush was developed in partnership with Wolfsteins, maker of RaggTop convertible care products, and is the first brush designed and endorsed by Haartz.
The brush's bristles are made from fibrillated Nylex, which is soft, yet strong, to gently loosen the dirt and debris from convertible tops. The bristles clean gently and do not damage acrylic cloth or vinyl top materials.
What's more, the brush features an ergonomically designed natural wood block that's easy to grip, making cleaning the entire convertible top near effortless.
"We manufacture our topping products to the exact specifications of the world's leading automakers," explained Matthew Williams, director of business development for Haartz. "Extending that precision to the development of a brush that effectively cleans the topping while minimizing damage to the fabric seemed like a natural step."
Wolfsteins welcomed the opportunity to partner with Haartz on this one-of-a-kind product.
"Our partnership with Haartz on the RaggTopp cleaner really helped to set the groundwork for development of this brush," said Rick Goldstein, CEO of Wolfsteins. "By working directly with Haartz we have had access to key research, development and testing. This has enabled us to partner on a brush that coupled with our other cleaning products will help owners maintain that new car shine for their convertibles."
Of course, the RaggTopp Premium Convertible Top Brush is top of the line. How could it not be? Haartz is the world's leading manufacturer of convertible topping, supplying fabric to virtually every automaker. And Wolfsteins's RaggTop brand is the go-to cleaner for every convertible car on the road today.
Williams notes: "Through our partnership with Wolfsteins on RaggTopp cleaning products, it made perfect sense for both of our organizations to develop a tool to help convertible owners protect their investment."
The RaggTopp Premium Convertible Top Brush is now on sale for $24.99 at AutoGeek.com.