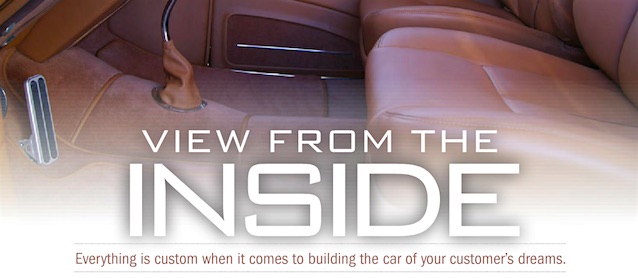 Illustrations are playing an increasingly important role in the work of auto upholstery shops, especially those that specialize in custom interiors. Though not all shops use illustrations, those that do find them to be extremely helpful in understanding what their clients want, how feasible their requests are, and what the projects will entail.
Eddie Wieber, editor of The Shop magazine, recently spoke with Murray Pfaff of Pfaff Designs about the process and goals of his illustrations. His comments are both interesting and enlightening. They also highlight the value of The Hog Ring Design Studio, an online library of blank illustrations that upholstery shops can use for free.
Below is an excerpt from the article, titled "View from the Inside" and published in the September 2016 issue of The Shop:
Murray Pfaff of Pfaff Designs is one such artist who's in the business of creating those renderings. Pfaff works with builders as well as owners.
He starts each project with a conversation about what the vehicle is, while working toward gaining an understanding of what the customer wants to eventually do to it.
But, Pfaff says he is mainly looking to understand what their goals are for the vehicle. He compares the conversation to someone talking to an architect about a beautiful old brownstone they just bought.
"They like the classic style, but they want a modern bathroom and a modern kitchen. And they want a clear idea of what it's going to be. There are so many questions that need to be answered. You don't want to leave it up in the air for somebody else to to simply make a decision, and potentially a wrong one."
And of course, the interior must complement "the intent of the exterior," he adds. "How far did they go in modifying the exterior and now what does that look like? Because you want it all to look like it's one comprehensive, cohesive package when it's all done and put together."
Pfaff says his renderings provide details regarding how components are arranged, "because they all need to be packaged and they take up space." But for the most part he describes his renderings as a "general idea of the space you're working with."
He calls them "sketches" rather than "architectural drawings" with exact dimensions. The renderings are intended to "set the tone and direction," he says.
"When it gets down to it, there are a lot of decisions for the builder to make. My goal is to provide an intelligent drawing that sets the builder up for success in being able to follow through with a beautiful interior." (read more)
Pfaff's illustrations are beautiful, but custom-tailored to specific projects. If you'd like general illustrations to use at your auto upholstery shop, check out The Hog Ring Design Studio.
We commissioned Tavis Highlander, another talented artist and our go-to guy for vehicle illustrations, to draw a range of popular models' interiors. The illustrations are purposefully left blank for upholstery pros to fill in with whatever colors combinations, patterns and trim options their customers want.
Simply download and print the illustrations. When clients arrive for consultations, break out a set of color pencils and sketch your ideas right on the image. Make note of color swatch numbers and other details in the title box on the bottom right corner. Finally, have the clients sign off on drafts before stapling copies to their receipts. This will eliminate any future confusion or disputes about the project.
Through The Hog Ring Design Studio, we aim to simplify the consultation process. Start using our illustrations today. And don't forget to send us your finished renderings for a chance to have them featured on The Hog Ring.