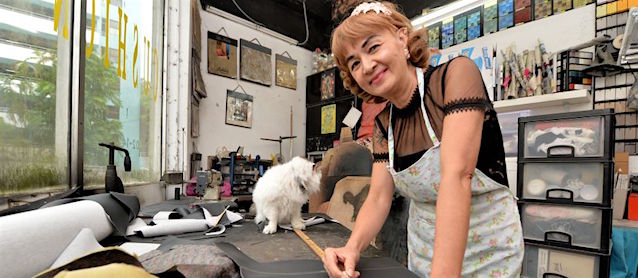 Madam Jenese Chuah, an upholstery shop owner in Singapore, has been working in the craft for 43 years, and has no plans to retire. In fact, she says: "If I stop working, I don't think I will be able to live."
Her shop, Cushion Specialist, specializes in a range of upholstery services — from vehicle seat covers to living room furniture. During down time, she even designs her own clothes.
A recent profile in The New Paper, explains how the 61-year-old trimer got her start:
Madam Chuah got into the furniture business in 1973 when her late husband, who had experience in the field, started a new business venture.
"Since I was 18, I observed how my husband would sew and cut materials," she says.
After trials and multiple cuts, she too mastered the skill.
The couple originally worked as sofa importers, but after about 10 years, they got into re-upholstery. […]
"Customers come to me if they want to restore their vehicle seats or furniture and I'll get it done within one to two days."
To replace the leather seats for a typical car, she charges $1,000 and gets the job done within two days.
Since her husband passed in 1997, Madam Chuah has been running the upholstery shop with her son, daughter-in-law and four cats. Among the seven of them, Madam Chuah is considered the "creative one."
She says: "I just love working and making new things every day."
Best of all, Cushion Specialist is flourishing. "We feel the business has been better than it was 10 years ago and we are very thankful for all the people who have supported us all these years," Madam Chuah says.
To learn more about Cushion Specialist, follow them on Facebook and read the full profile: "She's been doing this for 43 years."
[Photo by Jeremy Long]