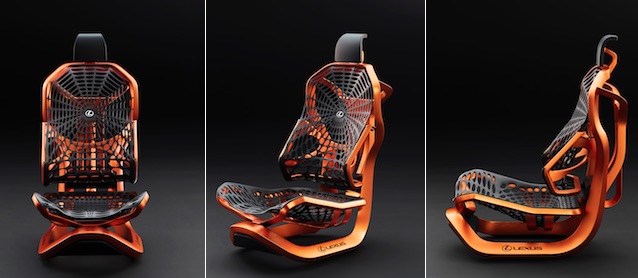 Lexus is set to debut its all-new "Kinetic Seat Concept" at the 2016 Paris Motor Show later this month, and our spidey senses are tingling! That's because the seat is upholstered in a synthetic spider silk material woven in a unique spider web-pattern.
The seat's spider silk material is called QMONOSTM. It was developed by Spiber Inc. to be an environmentally friendly and highly customizable alternative to petroleum-derived textiles. The synthetic material is primarily made up of proteins, created through microbial fermentation and spun into fibers.
Lexus chose to trim its "Kinetic Seat Concept" in the unique material because of it superior shock absorbing properties. It also wove the material in a web-like netting to keep the seat flexible enough to fit any body shape and disperse weight in such a way that occupants could sit comfortably for prolonged periods.
Lexus explains the science behind the design:
In humans, the spine acts to stabilize the head. It allows the pelvis and chest to rotate in opposite directions, stabilizing movement of the head even while walking or jogging.
In order to recreate this movement in car seats, the seat cushion and back rest were designed to move kinetically with occupant weight and external forces. Thus, simply sitting in the seat helps stabilize head movement caused by vehicle motion, keeping the field of vision steady. This reduces the burden on occupants, improving ease of driving and comfort. [read more]
And that gorgeous seat frame! Lexus says it was designed to be slim and light to keep vehicle weight down. Take a look for yourself:
https://www.youtube.com/watch?v=MMR1Kpq1MKo
Of course, the "Kinetic Seat Concept" isn't the first net car seat. Renault debuted a similar design, made from elastic bands, at the 2011 Geneva Motor Show. And who can forget Bastybikes' laced-leather motorcycle seat?
For more awesome concept interiors, check out The Hog Ring's "Concepts & Designs" section.