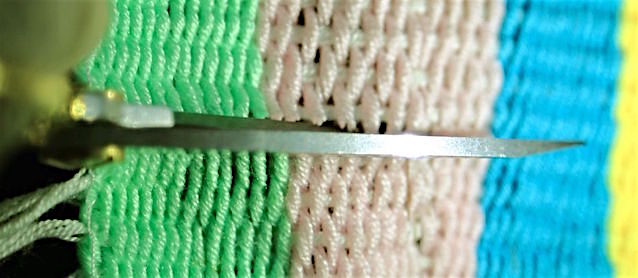 It's no secret that "smart fabrics" are the wave of the future. Automakers are using them in concept vehicles to control equipment, provide interior lighting, make airbags more effective and more.
Now, researchers in the U.S. and China are using smart fabrics to harness and store energy to power equipment — a technology that if applied to cars could replace batteries and be a total game-changer.

The new fabric was developed in an effort to create a "lightweight, flexible, foldable and sustainable power source with simple transport," according to the researchers from Georgia Institute of Technology, Chongqing University and Beijing Institute of Nanoenergy and Nanosystems.
A study published in the journal Nature explains how they did it:
Using commercially-available equipment, the researchers combined lightweight polymer fibers with nanogenerators to create solar cells that can be woven into textiles. The result is a fabric that can harness electric power in two ways: through solar energy and the tribo-electric effect, which is basically movement of any kind.
The fabric is both environmentally friendly and sustainable, according to the study.
So far, the researchers have used the smart fabric to power an electric watch and charge a cell phone. However, they're also experimenting with it to create tents that allow campers to have electricity at all times.
Although the researchers are a long way from integrating the new technology in cars, it's easy to imagine the possibilities.
Dashboards, rear decks and even seats trimmed in the smart fabric could be used to harness and store electricity that could power instrument panels, as well as interior lighting, radios and televisions.
However, the fabric may find its ideal use in convertible tops, as they're continuously exposed to sunlight and movement.
In fact, Haartz Corporation, the world's leading manufacturer of convertible topping, already has its eyes set on similar technology.
"We are actively engaged in activities surrounding energy harvesting and storage on both our convertible topping material and our interior surface trim materials," Matthew Williams, director of business development at Haartz, said in a statement.
"Overall, our thrust is towards engineering the next generation of automotive trim materials to satisfy consumer's desire for environmentally friendly and electronically integrated surfaces. We see these features of growing importance as we move toward autonomous vehicles where occupants will seek more direct engagement with the vehicle and its trim."
With new technologies like this, the future of car upholstery looks to be exciting!
[Photo by American Chemical Society]