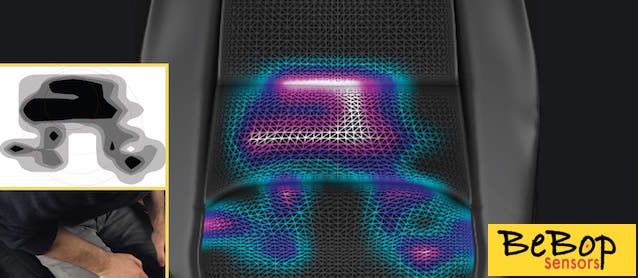 If you think smart fabrics are just a fad, think again. Automakers and technology firms are continuing to develop textiles with electronic components woven into their fibers that will make car interiors more convenient and safe. The latest is BeBop Sensors, which is manufacturing a seat lining that measures a vehicle occupant's height, weight and movement in real-time in order to deploy airbags more effectively.
Of course, many new car seats already feature sensors that measure weight and use that information to turn on airbags and remind passengers to wear their safety belts. However, most are unable to distinguish between a heavy bag of groceries and a child or animal of similar weight. Unlike BeBop Sensors, they also do not keep track of such factors as sitting position, which can have a significant impact on how well an airbag works.
Gizmag blog explains:
What BeBop has created is a smart occupant classification system that can provide a greater level of detail by being able to distinguish a car seat occupant's size, weight and movements in real time. The latter includes sensing when someone is leaning forward or backward, right or left and crossing their legs. It can also detect something static like a baby seat.
A car seat with BeBop's system would be able to more accurately know when and how to deploy an air bag based on the person's position, weight and size at the moment of impact. […]
The key to this smarter approach is a waterproof, automotive grade fabric about 1 mm thick with built-in sensors. The company says the fabric can easily be custom-fitted and placed under the upholstery of seats of any size or shape, including the front or back row. The technology also has no moving parts, giving it high reliability, and is built to automotive grade in terms of environmental and durability specifications. [more]
Check out the following video to see how the fabric lining works:
Of course, the technology could also be used to control other seat features — such as seat height and position, bolsters, and even heaters, coolers and massagers. The possibilities are endless.