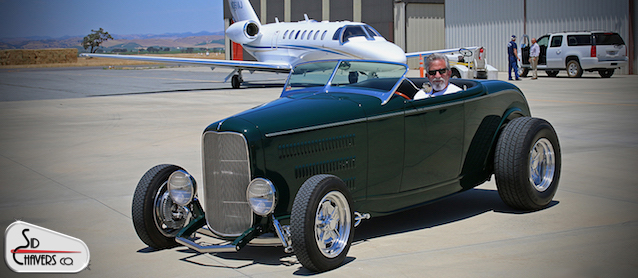 It's been four years since we interviewed legendary hot rod trimmer Sid Chavers for our popular "10 Questions" interview series. Since then, he has continued to amaze us with his extraordinary craftsmanship and willingness to share his knowledge and experience with anyone willing to learn.
We recently reconnected with Sid to see photos of his latest projects, which we shared with The Shop magazine. They combined the photos with our interview for an awesome three-page spread in the November 2016 issue.
The interview, titled "A Nod to Tradition," covers a range of subjects — from how he learned the craft of auto upholstery to his invention of the BopTop convertible top, and even his series of instructional DVDs.
The interview provides loads of insight into what has made Sid Chavers Company in Santa Clara, California, so successful.
Here's an excerpt from the interview:
Some of the best advice I've received has as much to do with life as it does with business. "Do what you say you're going to do" and "your word means everything." The best advice I can give to you guys coming up in the industry would be "Don't sell yourself short. You are craftsman, which is a dying breed."
Not selling himself short has helped propel Sid to the top of the industry. His work has been featured in countless car shows and magazines, won awards the world over and attracted celebrity clients, including Eric Clapton and Jeff Beck.
To read the full interview, pick up a copy of The Shop magazine. You can also read or download a digital copy by clicking here.