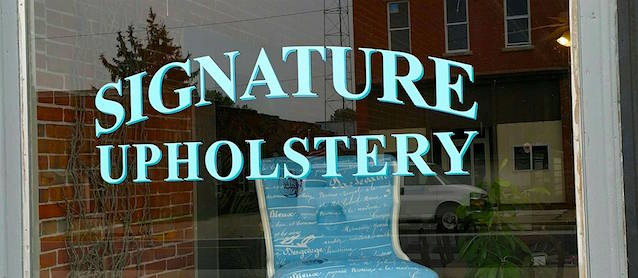 Congrats to Amanda Tharp for opening Signature Upholstery in Roseville, Illinois. The new shop focuses on automotive and marine upholstery, but also does household furniture.
A profile in Daily Review Atlas explains:
Tharp can totally redo the upholstery in a car or truck or just fix a small section if there is a tear in it. She found a company that will perfectly match fabric for her if she needs it.
She also repairs boat seats and makes custom covers for boats when they are docked. […]
A lot of Tharp's expertise comes from experience. In 2013 she began to work on car upholstery in Georgia, when a local junk yard dealer asked her to try to fix some seats for him.
That piqued her interest, and she began to look for places where she could learn the finer nuances of the trade. She studied in North Carolina and then in New Jersey at Midwest Technical Institute to learn the automotive trade.
Then she moved on to Ohio where she found a school that would teach her how to make custom boat covers. "I can do custom covers that would fit any boat perfectly," she said.
She also learned to do decorative stitching and design on leather or any other fabric. She has a beautiful leather motorcycle seat with a hand-designed Georgia Bulldogs logo displayed in the shop.
The auto upholstery industry is small and slow growing, so it's always exciting to hear of a new shop opening. Please join us in congratulating Amanda on the new business venture and wishing Signature Upholstery loads of success.
Of course, The Hog Ring will be here to help in any way possible.