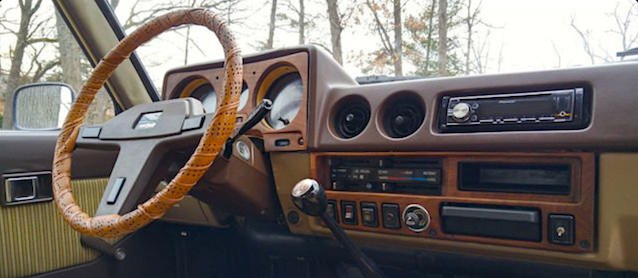 If you're a fan of wood paneling and trim, check out Jeffrey Bütt of WoodWrite in Chicago, Illinois. His boutique woodworking shop creates custom wood dashboard kits and interior component for a range of vehicles.
According to Popular Mechanics, which recently profiled Jeffrey, he's a trained furniture maker and car enthusiast who started experimenting on his own vehicles by carving interior components out of a variety of wood, including black walnut and silver oak.
After Jeffrey's designs elicited a positive response, he decided to open a woodworking shop focused solely on vehicle interiors. In an article published on Woodworking Network, Jeffrey explains:
Woodworking has been a passion of mine for nine years now, but it's only now that things are looking up. I restore classic vehicles for clients of mine. […]
In some of my projects, including some where the original dash was not wood, I am trying to embellish the existing look of the car, and achieve more with a certain vehicle. […]
I'm starting small, I'm hoping by doing so, it evolves naturally and allows me to fund larger equipment needed in the future. It's a risk, but with the direction it's already heading, it's definitely worth it for me to take.
Although Jeffrey is now focused on cars, he doesn't view his work as a great departure from his roots in furniture design.
"I just found other types of furnishings, seeing as we, as a society, spend the majority of our times in our vehicles, classic or not, I thought we should enjoy what we drive a little more," he told woodworking website FDMC. "This was the approach I took from the beginning and quickly learned others might look at this the same way."
To see more of Jeffrey's work, follow WoodWrite on Facebook and Instagram.