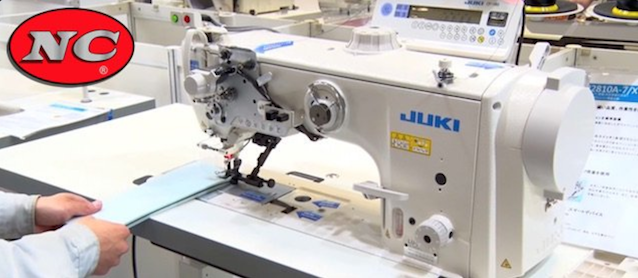 In the market for a new sewing machine? Then check out the Juki 28010-7x — an innovative, high-end industrial machine that won't break the bank.
For a limited time, NC Carpet Binding and Equipment is offering this Juki machine for a special low price to every member of The Hog Ring.
The Juki 28010-7x is equipped with a long list of helpful features that make operating it easy and allow you to focus on the project at hand.
Among those features is:
An automatic thread trimmer so you're not constantly reaching for scissors.
A triple-capacity hook for a massive bobbin that lasts up to two-times longer than most "big bobbin" machines.
An auto lubrication system that filters and recycles the oil in your machine to reduce consumption and keep you from constantly oiling.
An advanced feed system that makes it so that you never have to hold back the thread while driving a needle in for the first stitch.
A high and deep throat so you can pass just about any cover or carpet through the machine with ease.
To see the Juki 28010-7x in action, check out the following video:
Auto trimmers who aren't currently running a Juki machine and are apprehensive about switching brands shouldn't be.
For the first 10 years of my career I operated on an older model Singer 111w and a Consew 226rb. When I decided to purchase a new machine I did my research and found too many positive reviews about Juki to ignore. So I tested one out, fell in love and bought it. Without a doubt, it was the best decision for my shop that I ever made. My only regret is that I didn't make the switch sooner. And judging by my conversations with other trimmers, a lot of people feel the same way about their Juki sewing machines.
Special low price to THR Members
For a limited time, NC Carpet Binding and Equipment is offering the Juki 28010-7x for a special The Hog Ring members' price of $4600.
Of course, NC sells its own line high-quality sewing machines as well. If you opt for one of these, take 10% off the price and receive free shipping!
Contact NC at sales@nccarpet.com or 1-800-526-1184 for details! You can check out their full range of products on N-Ccarpet.com.