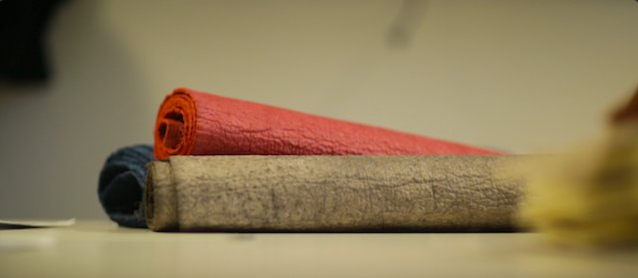 Remember Piñatex, the experimental faux leather made from pineapple leaves? Turns out it's more than just another eco-friendly fabric for cars. If the Philippines government has its way, it'll also be the key to eradicating poverty.
Emmanuel F. Piñol, Philippines Agriculture Secretary, announced a 4-point plan this week that explains how:
Dole Food Company, the world's largest producer of fruits and vegetables, will donate pineapple leaves from its 44,500-acre pineapple plantation to poor Filipinos. Normally, after the harvesting season these leaves are left to rot.
The Philippines' Department of Agriculture will provide all the necessary training and equipment for poor Filipinos to process the pineapple leaves into string fibers for use in Piñatex fabric.
After processing the pineapple leaves, the workers will sell the fibers for a fair price to Ananas Anam, the UK-based textile firm that makes Piñatex.
Ananas Anam will continue to process the fibers to create Piñatex fabric, which will then be sold to auto upholstery and clothing manufacturers.
According to Piñol, Ananas Anam will pay up to $6.00 per kilogram of processed pineapple fibers. In a country where the average monthly salary is only $279, that's good money and has the potential to pull thousands of families out of poverty.
If the collaboration with Dole is successful, the Philippines government plans to expand the project to other pineapple growers in the country.
"Hopefully, I will be able to convince the other companies involved in pineapple production, such as Sumifru and Del Monte, to follow the example of Dole Philippines," said Piñol, according to Business Mirror.
With 28 pineapple plants, the Philippines is the world's second largest producer of the fruit. Thailand is the first.
Although Piñatex has yet to find its way into car interiors, rest assure that it soon will. When that happens, you'll have the satisfaction of knowing that the fabric you're using to build a livelihood has already helped someone on the other side of the globe do the same thing. How cool is that?