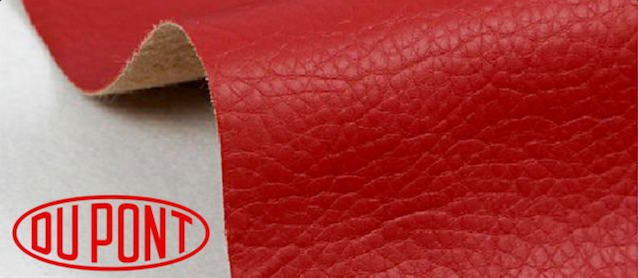 Tired of seeing luxury cars trimmed in faux leather? Blame DuPont.
According to Atlas Obscura, an online travel and history magazine, the chemical giant is largely responsible for introducing fake hides to the auto industry.
To be clear, Dupont didn't invent faux leather. But through a strategic — and ultimately illegal — relationship with General Motors, the company managed to get the fabric in most U.S. cars.
Atlas Obscura explains…
The company's first modern-day president, Eugene du Pont, died in 1902, offering the company something of a clean break from the past. The firm wanted to find more mainstream uses for their chemical know-how, but that proved challenging at first. […]
That same year, …DuPont was able to find a durable path forward with its purchase of the Fabrikoid Company. The leather substitute maker was a great fit for the company, but not a perfect one, as the material was a little lacking. But DuPont's chemical experts worked to turn the pleathery acquisition into something groundbreaking. […]
After a bit of tweaking, DuPont had a leather alternative that was good enough to put in a car. […]
Starting in 1914, the family began acquiring a significant amount of General Motors stock, soon gaining full control of the company by taking advantage of its precarious financial situation. The family saw some pretty synergistic opportunities in GM—the kind that eventually draw antitrust regulators.
"Our interest in the General Motors Company will undoubtedly secure for us the entire Fabrikoid, Pyralin, paint and varnish business of those companies, which is a substantial factor," DuPont executive John J. Raskob wrote in 1917.
Raskob was right about that synergy: GM bought many of its raw materials from DuPont for decades, and the C-suites of the two companies soon had much in common. For example, Pierre S. du Pont was GM's president at one point, and Raskob, who started as Pierre's personal secretary, was for a time in charge of the finances of both companies. […]
DuPont saw significant success with its pitch for using faux leather as the upholstery option of choice in automobiles, with leather alternatives making up 70 percent of the car market by 1915, much of it made by the chemical firm.
"It has the artistic appearance and luxury of real grain leather, and in addition is waterproof, washable, and will outwear the grade of 'genuine leather' used on 90 percent of the cars that 'have hides'," the company stated in an ad that year.
But neither the investment nor Fabrikoid were built to last. Eventually, newer pleather technologies reached the public, many of them using stronger vinyl mixtures, and by the 1940s, Fabrikoid was old news.
Around that time, the whispers around DuPont and GM's overly cozy relationship reached fever pitch, and the Truman and Eisenhower administrations started to take an interest.
A breakup that big, however, isn't one that happens overnight. It wasn't until 1957—more than 40 years after the du Ponts bought their first interests in GM, and after an antitrust trial that went all the way to the Supreme Court—that the ultra-cozy relationship was broken up. The du Pont family finally divested themselves of GM stock in 1961. [read more]
By the time DuPont and General Motors parted ways, faux leather had already gained widespread acceptance. In fact, the industry was thriving so much that competitors — including Uniroyal's Naugahyde — had started to pop up with superior alternatives.
Today, of course, it's almost unheard of that any mid-range luxury or affordable car isn't trimmed in part with fake leather. However, that doesn't mean the market for real leather is dead.
The genuine leather industry is actually growing by leaps and bounds, spurred by customers who understand that true luxury and natural hides go hand-in-hand.
Want the real thing? Check out Hydes Leather, which supplies superior genuine leather hides, and Alea Leather, manufacturer of the best leather seat covers on the market. These two companies are the real deal!