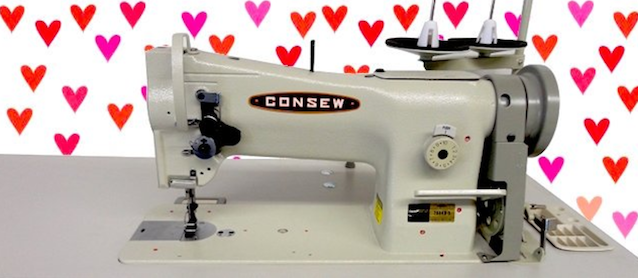 Albright's Supply is giving away another Consew sewing machine, and every auto upholstery shop owner and employee is eligible to win.
That's right! Albright's Supply, one of the auto upholstery industry's largest suppliers of fabrics and goods, is giving away an industrial sewing machine to one lucky upholsterer.
It's all part of their "Be Our Valentine" survey giveaway! This month's contest follows another in October, in which Chris Parker of Everything Upholstery in Hillsboro, Tennessee, won a sewing machine.
Here's how to enter: Simply click the flier below to take an industry survey. Once it's complete, you're automatically entered for a chance to win a Consew 206RB.
The survey covers a range of topics — from supplier prices to shipping methods — and is designed to help the Albright's Supply team continue providing small, independent shops with quality goods and services.
The "Be Our Valentine" giveaway is quick, simple and free to enter! It runs throughout the month of February. The winner will be announced on March 1.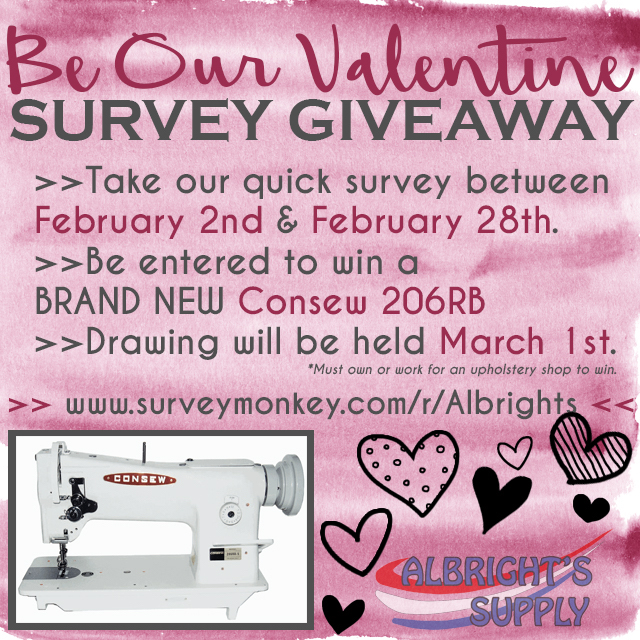 Family owned and operated since 1947, Albright's Supply has its feet planted firmly in our craft. Chris Albright, who runs the company, is a second-generation trimmer who grew up cutting, sewing and installing seat covers just like us.
To learn more about Albright's Supply and browse their online inventory, visit AlbrightsSupply.com. To set up a business account today, call: (662) 287-1451.
Of course, you can also follow Albright's Supply on Facebook and Instagram.