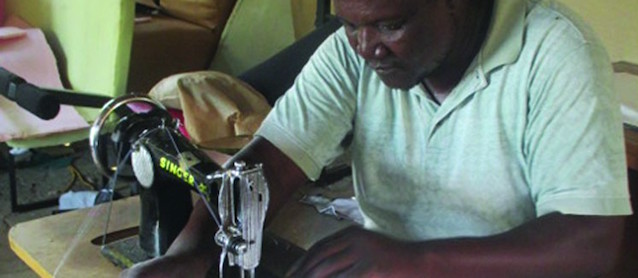 For 30 years, Ratsela Sithole, a second-generation trimmer in Lobatse, Botswana, has been upholstering everything from office chairs to car interiors using only a manual sewing machine.
"I started learning this job from my father back in 1987, he later passed on in 1998 and I ran the business from there because I was then a professional in upholstery," he recently told Pauline Dikuelo of The Monitor.
Ratsela, who operates Sithole's Upholstery from his home, says he never received formal training or financial assistance to launch his business. Nevertheless, his work is in high demand.
"I have enormous experience in this field and I have been in Lobatse for quite some time now. I now have a well established market and despite the fact that I operate from home, I am doing well. … The job is bringing food on the table as sometimes I do bulk projects," he said.
Ratsela's story doesn't sound all that different from others in our industry — until you consider that he works in a poor African country with limited access to tools, supplies and fabrics.
"I also have a serious problem of machinery… I only use machines that I could afford to buy. These are manual machines and they take the whole time to complete a single piece of a job," he said.
From the looks of it, Ratsela runs his upholstery shop on an antique Singer treadle sewing machine. With equipment like that, can you imagine how much time and effort goes into a single car seat?
Still, Ratsela is hopeful. He dreams of one day moving his shop into an industrial space and hiring employees. Of course, he's also saving money for a new sewing machine.
With a work ethic like his, we have no doubt he'll get there.
Check out The Hog Ring's "Shop Profiles" section to learn more about other auto upholstery shops.