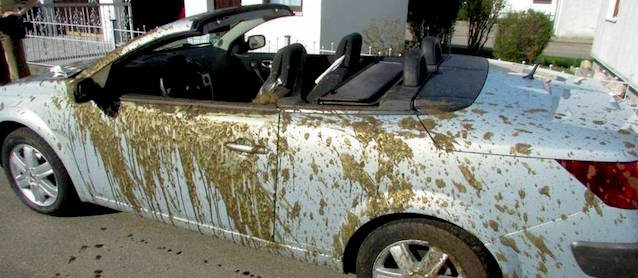 A German man and his teenage daughter were cruising around in their Renault convertible on Saturday when the unthinkable happened: A trailer full of liquid manure spilled into their car!
The Associated Press explains:
German police say the incident happened Saturday near the town of Altomuenster, about 30 kilometers northeast of Munich.
The 52-year-old father and his 14-year-old daughter were parked by the roadside when a tractor pulling a trailer of liquid manure swung in their direction.
The maneuver sent the entire load pouring into their Renault convertible, covering the occupants from head to toe with slurry. [read more]
Ugh! The disgusting incident calls to mind that classic scene in "Back to the Future," when Biff and his buddies smash into the back of a pickup truck hauling manure. Only this time, the poo is liquid.
I don't know about you, but there's no amount of money they could pay me to re-trim that interior.