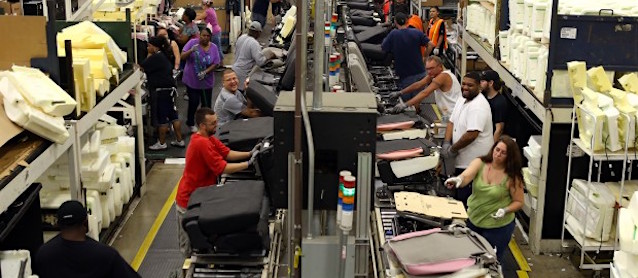 An executive at Lear Corporation, one of the world's largest auto parts manufacturers, recently admitted that car seats are uncomfortable by design, and revealed plans on how his company finally plans to remedy the issue.
"Car seats are designed for the first 15 minutes of 'soak time' in the dealership," Ray Scott, president of Lear's seat division, told Car and Driver. "The occupants are not being supported over the long run."
In other words, Lear and other manufacturers have purposefully deceived car buyers into thinking their seats are more comfortable than they really are, exasperating drivers' back pains.
Nevertheless, Lear is coming clean and says that it's developing new technology that will make car seats comfortable for the long haul — using a combination of body sensors and pneumatic bags. Car and Driver explains:
Scott and his team, many of whom, coincidentally, have back issues, hired a consultant, Detroit-area chiropractor and disc specialist Dr. Winsen Zouzal, and studied butts in seats to a fare-thee-well, using sophisticated pressure sensors to determine "hot spots" where the spine is misaligned and the backs of the thighs are squeezed. They learned that traditional upmarket adjustments such as power lumbar control are inadequate. These rectangular inflatable "footballs," as Scott calls the pneumatic bags within the seat, often just create pressure points that make you uncomfortable without doing any actual good.
Lear is shopping around a concept that it calls the Intuitive Seat, a sort of living, breathing bucket that is always in motion. The seat can recognize your pressure points and adjusts itself according to your ideal position for spinal alignment, then keeps adjusting and massaging as you fatigue and shift around. Instead of footballs, the In­tui­tive Seat has what Scott and Zouzal describe as a pneumatic catcher's mitt, or triangular bags that embrace your upper thorax below your shoulders and actually lift it slightly, engaging the core, opening up your airways, and taking pressure off the beleaguered discs below. It gives the driver the option of phasing in the new seat position over time so that you have a chance to get used to what may at first seem like an awkward, upright seat adjustment, and it has sport and comfort settings depending on your driving mood. Scott says a few automakers are interested.
It's definitely not cool for companies to profit by creating problems and then introducing their solutions. But after years of uncomfortable car seats, I'm excited to try anything that will make long road trips enjoyable again. Still, it's not clear if or when Lear's new car seat technology will ever hit the market.
To read the full article, see: "Your Car's Seats Are Terrible and the Industry Knows It."