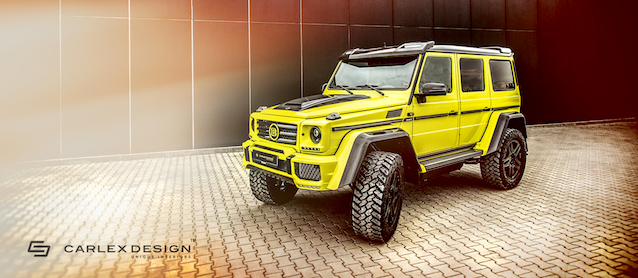 German auto tuner Brabus and Polish auto upholstery shop Carlex Design recently partnered on a project to transform a Mercedes-Benz G-Class into a head-turning, mind-melting street machine.
They call it the Brabus G500 4×4² —  and it's a sight to behold.
Mechanically, the vehicle is based off the Mercedes-Benz G63 AMG, but tuned for superior performance. It features a 4.0-liter twin-turbo V8 engine that kicks out 542 horsepower and 590 lb-ft of torque. The added power allows this three-ton behemoth to fly from 0 to 62 mph in just 6.7 seconds.
Eye-catching lime green paint, custom body kit, monster wheels and raised road clearance add to the G500's allure. But the cabin is where it really shines.
Carlex Design explains: "Our goal was to gain a sporty, modern look with accents alluding to the body color."
Auto Evolution explains how it was done:
Most of the upholstered surfaces in the passenger compartment have received perforated Alcantara, which is described by the Polish tuner as a "perfect choice" for the most comfortable interior possible.
The boxy shapes of the G500 Squared were matched inside by a rhombus pattern, which was accomplished using a particular sewing technique that created the described form through stitching.
The seats and door cards come in two shades of black, and they also have a contrasting shade of bright yellow, chosen to match the exterior. Using it for anything more would have been distasteful.
The steering wheel blends black stitching with the same shade of thread. Evidently, Carlex could not help itself and wrapped the dash in Alcantara, and the same can be said about the A-pillars, headliner, and the rest of the interior surfaces that do not have carbon fiber or other ornaments.
But don't just take our word for it. See for yourself…
Hopefully the video inspires you to try something fun at your shop today! If you do, show us photos on Instagram or Facebook.
To see high-resolution photos of the Brabus G500 4×4², visit CarlexDesign.com.