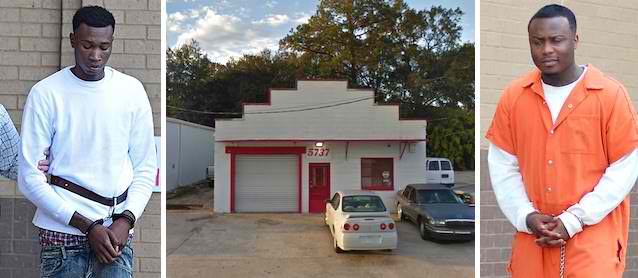 A grand jury has declined to indict two men suspected of murdering an employee of Red's Auto Upholstery in Baton Rouge, Louisiana.
Nicholas Brumfield, 23, was shot to death on May 31, 2014 at the upholstery shop, where he was learning how to trim car interiors and fabricate speaker boxes.
Brumfield was shot seven times, including several times in the head, police say. Neither he nor the shop were robbed. Police say the motive is unknown.
Leslie Ferguson, 24, and Devante Tremayne Courtney, 24, were arrested earlier this year in connection to the slaying and charged with second-degree murder.
The victim's family and friends were hopeful that the arrests would result in justice and put the three-year-old case to rest.
But last week a grand jury said there wasn't enough evidence to charge the suspects with the crime. The jurors voted to pretermit the case, allowing for prosecutors to return to the grand jury if stronger evidence is found.
Robin Smith, Brumfield's mother, called the decision "devastating," according to The Advocate. She believes Ferguson and Courtney are her son's killers.
"I know my child was not murdered and then just forgotten about," Smith said. "They will see justice. I really, really want justice for this."
Courtney has since been released from prison. Ferguson remains behind bars on an unrelated charge of aggravated domestic abuse.
Authorities ask that anyone with information about the murder contact the Baton Rouge Police Department at (225) 389-4869 or Crime Stoppers at (225) 344-7867.