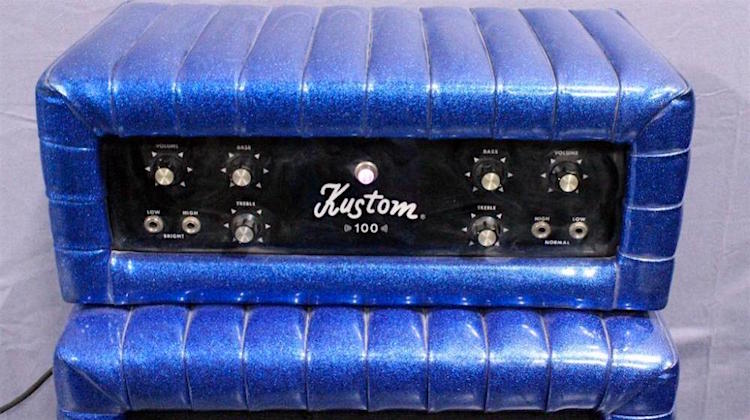 Did you know that an auto trimmer is responsible for the tuck and roll upholstery featured on the amplifiers and speaker cabinets of some of the most iconic rock bands, including The Grateful Dead and Creedence Clearwater Revival?
Kansas City Business Journal recently published an obituary for Bud Ross, musician and inventor of some of the most popular amplifiers and guitar pedals in the music industry. He was also the owner of Kustom Electronics, which popularized the fad of upholstering musical equipment.
The obituary reveals that Ross' signature look of tuck and roll equipment wasn't actually his idea, but that of auto upholsterer Dave Gates:
At The Soc Hop one night, Ross met Dave Gates, who had experience doing custom auto upholstery work. Gates asked if he could "tuck and roll" Ross' amplifier, which was an upholstering technique using Naugahyde that was popular for hot rod seats at the time. The eye-catching look soon became Ross' unofficial trademark.
Tired of amplifiers breaking down all the time, Ross started teaching himself about electronics. He moved toward solid state technology, and away from the temperamental tube technology in standard use at the time. The amp he built was incredibly sturdy, with a big, clean, loud sound. It quickly attracted attention from musicians of the era, and Ross started building amps out of his garage.
By 1964, Ross had enough business to form Kustom Electronics in Chanute, Kan., and make amplifiers on a full-time basis. […]
The amps and speaker cabinets, sporting the iconic tuck-and-roll upholstery, were used by The Grateful Dead, Creedence Clearwater Revival, Leon Russell, Johnny Cash, Roy Clark, The Jackson Five, Carl Perkins and The Carpenters.
How about that? An auto trimmer was responsible for one of the music industry's most popular fads in the 1960s and 70s. We really do rock!
To read the full story, check out "Kansas City-area inventor who helped shape American music dies."