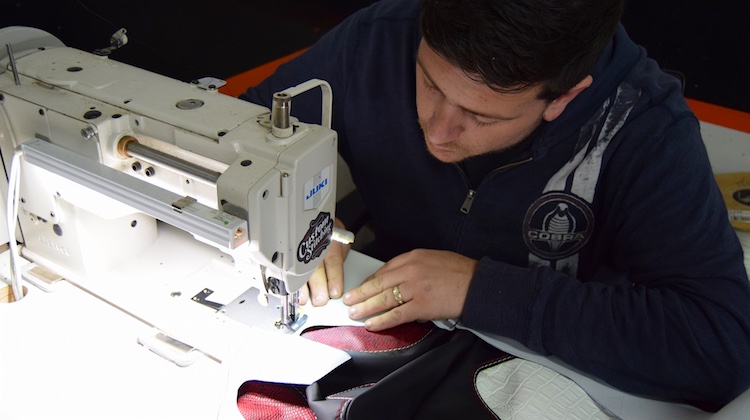 Congratulations to Steve Kurzman of The Custom Stitching Co. for being named to SEMA's "35 under 35" — an annual list that recognizes the top 35 professionals under the age of 35 who are changing the automotive aftermarket industry.
Steve, who owns and operates the shop in Charlotte, North Carolina, told SEMA that he's thrilled to be part of a growing industry.
"It's a very exciting time to be in the custom interior field," he said. "It's almost like a renaissance. The OEs are giving so much attention to the interiors of present and future cars. That is bringing a fresh light to a typically overshadowed art. The combination of public interest and demand coupled with the increasing use of technology is really making this a special time to be an auto upholsterer."
Members of The Hog Ring community know we're huge fans of The Custom Stitching Co. In fact, we profiled Steve in October 2017, highlighting his story and excellent craftsmanship.
At the time, he told us that his favorite thing about being a trimmer is "the customers' appreciation and reaction to a job well done."
Steve posted about the honor of making SEMA's list on Instagram, writing: "An extremely humbling moment! It's a tremendous honor to be recognized by such an important and influential organization. One that hosts a show I use to dream of going to when I was younger, now to be recognized like this, in print, is truly very special."
As former recipients of SEMA's "35 under 35" award, we're excited to see more industry professionals make the list! To read more about Steve, as well as the other 34 aftermarket professionals who made the list, visit SEMA.org.
If you're headed to SEMA in November, you might even meet Steve roaming the show or at NC Carpet Binding & Equipment's booth (#34293).
Visit The Custom Stitching Co.'s website, and follow them on Facebook and Instagram.