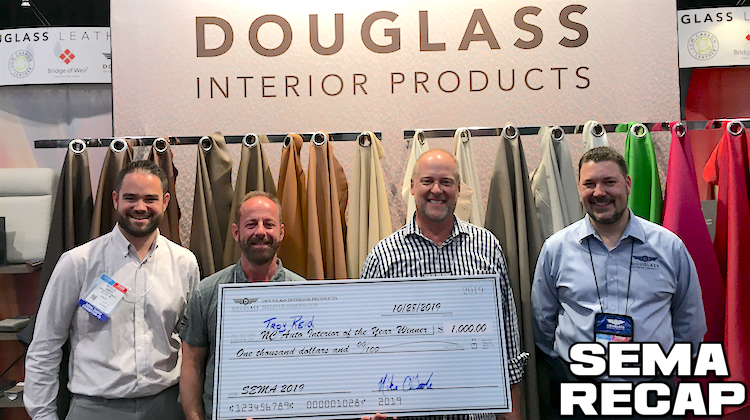 Congratulations to Troy Reid for winning Douglass Interior Products' giveaway at the 2019 SEMA Show!
Troy, head fabricator at Hot Rod Interiors by Chuck, took home a $1,000 gift certificate to Douglass Interior Products, which can be used to buy any of their quality goods, including premium Scottish leather and Luxembourg automotive carpeting.
He also received a high-end leather skiver, courtesy of NC Carpet Binding & Equipment. The skiver is valued at $1,600.
Although Troy wasn't at SEMA, two of his colleagues were – and they gladly accepted the prizes on his behalf.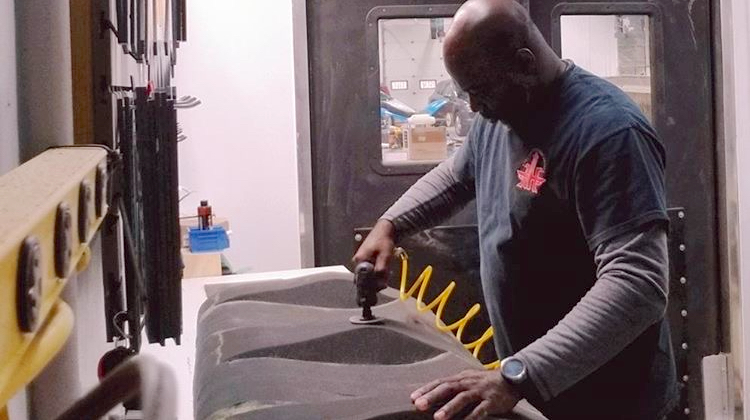 Troy told The Hog Ring that he was excited to win this "awesome" giveaway.
"Honestly, I've never won much more than a scratch-off. It caught me completely off guard," Troy said.
He plans to use the gift certificate and skiver to complete a car build that will be unveiled in 2020, he said.
"It was great hearing the excitement and surprise in Troy's voice when we spoke on the phone and told him he had won the random drawing," said Nick Roberts, director of marketing at Douglass Interior Products.
"We assumed the winner may not be at SEMA, but it was great to find out that Chuck Hanna was at the show and was on the way to pick up the check. Really happy such a great shop and amazing builder happened to win!"
Mal Maher, CEO of NC Carpet Binding & Equipment, was also excited to give the prize to Troy and his team.
"We were thrilled to see an existing NC Client win the drawing. Hot Rod Interiors by Chuck has been a client for years and Troy is producing some great work for them," said Maher. "Adding the Skiver to this Douglass giveaway was a pleasure, as we have been blessed by Douglass Interior Products' involvement in the NC Auto Interior Award."
To learn more about Douglass Interior Products and sample their quality leather, fabric and carpets, visit DouglassInteriorProducts.com. You can follow them on Instagram and Facebook.
Also check out NC Carpet Binding & Equipment's website, Instagram and Facebook for quality sewing machines, skivers and more.