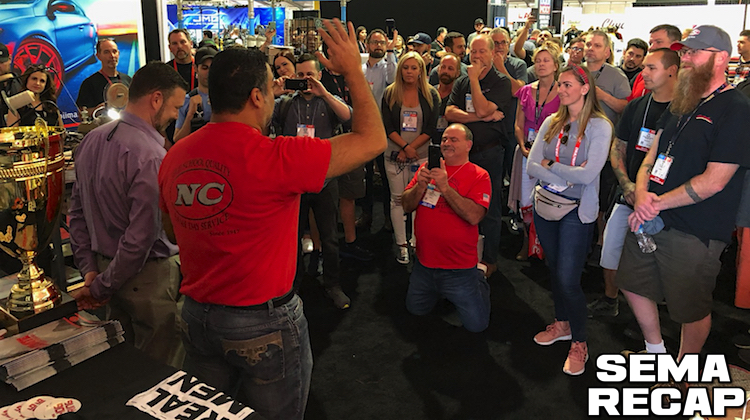 Congrats to Rick Esterly of Stitchwurx for winning the 2019 "NC Auto Interior of the Year" award!
His gorgeously trimmed 1935 Chevy coupe took home the top prize: a massive trophy from NC Carpet Binding & Equipment, $2,000 gift certificate to Douglass Interior Products, a forthcoming profile in The Hog Ring, and bragging rights.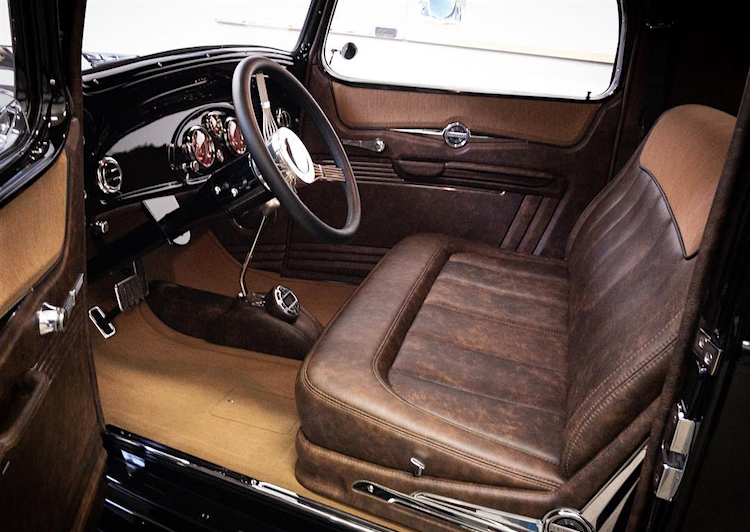 The competition was stiff, with loads of jaw-dropping interiors entered into the annual competition. But a jury of Rick's peers – including many of the country's top shops – decided his interior build was most deserving.
And how couldn't they? The '35 Chevy's beautifully designed and meticulously stitched chocolate and caramel leather upholstery is enough to make your mouth water.
NC Carpet Binding & Equipment unveiled the winner during an award ceremony at the 2019 SEMA Show. It was a packed house, with talented trimmers from all over the United States – and other countries – there to celebrate the winner.
Rick, who was there with his wife Monette, appeared surprised and overwhelmed when Mal Maher, CEO of NC, announced him the winner. Rick and Monette immediately embraced as the crowd of trimmers erupted in cheers.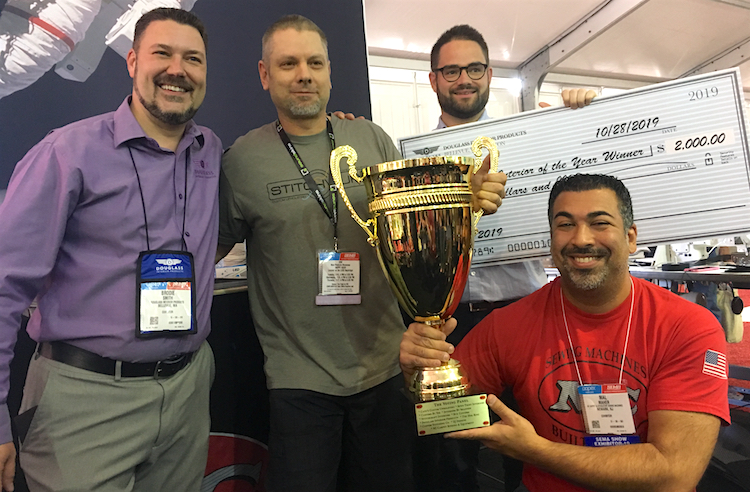 Rick described the moment as "the highlight of my career."
"I was truly shocked when Mal announced Stitchwurx as the winner," he said. "Just to have our work recognized by that group of super talented judges, who I feel are some of the top trimmers in the nation, and come out on top of all those beautiful entries just blows my mind!"
Rick was especially happy to have Monette by his side during the ceremony. "She's truly my best friend and I wouldn't be here without her," he said. "To have her with me in Vegas to receive the award was the icing on the cake for me!"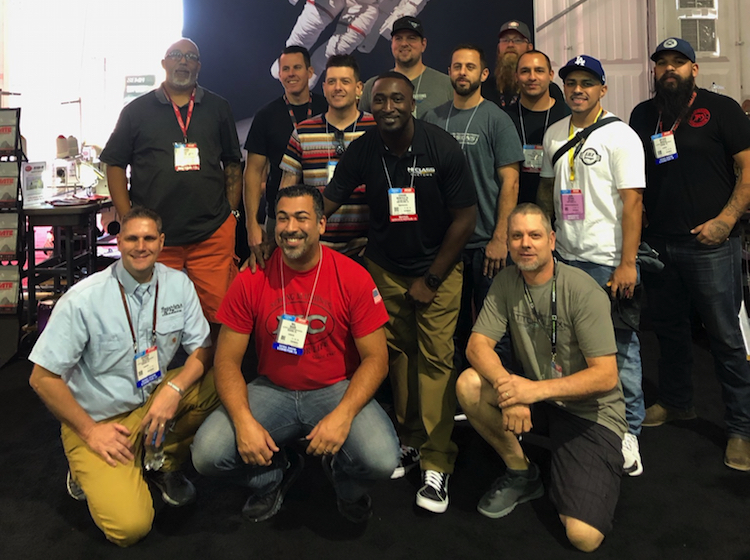 Mal, who created the industry award in 2018 to honor our wonderful craft, said he was extremely happy to give it to Rick. "It couldn't have happened to a better guy," he said during the ceremony.
"Rick is so deserving of this award, as were so many who entered. This year's contest had an abundance of entrants — literally a 'who's who' of auto trimmers from across the world."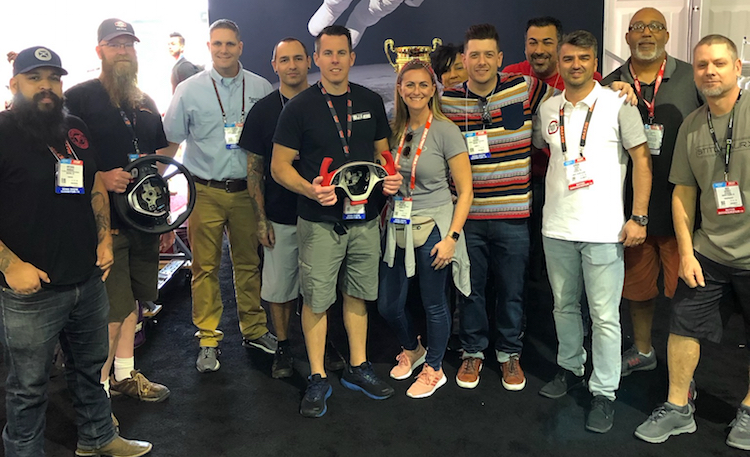 Brodie Smith, regional sales rep at Douglass, was also excited to give the award to Rick.
"Rick's attention to detail on the '35 Chevy is amazing and we can't wait to see what he creates next," said Brodie. "We're excited to have such an immense talent working with our products and we're looking forward to assisting Stitchwurx on their next big project."
Nick Roberts, director of marketing for Douglass, added: "I happened to be standing next to Rick when the award was announced and his surprise was a testament to how much talent was represented in this year's contest."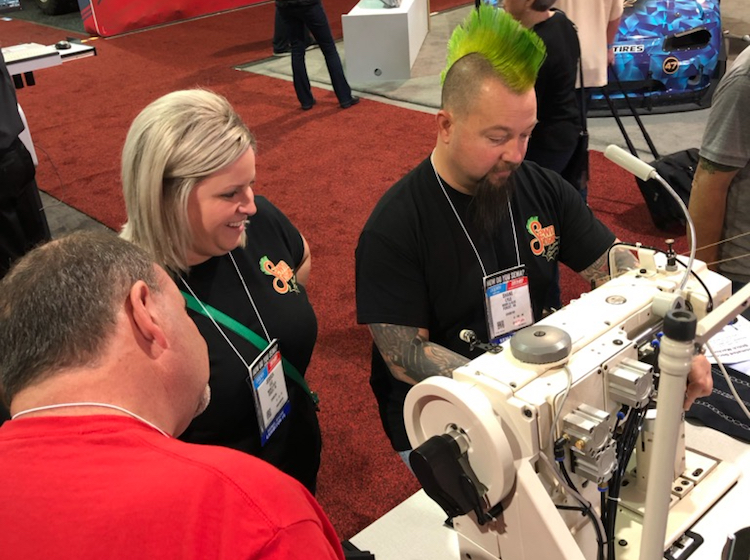 The NC trophy is so large, Rick joked that he'll have to build a new shelf in his shop to display it, along with other awards that Stitchwurx has accumulated over the years.
"NC Auto Interior of the Year" is an annual award presented at the SEMA Show in Las Vegas, Nevada. It's the only industry award open to all interior builds without restriction and voted on by a jury of peers.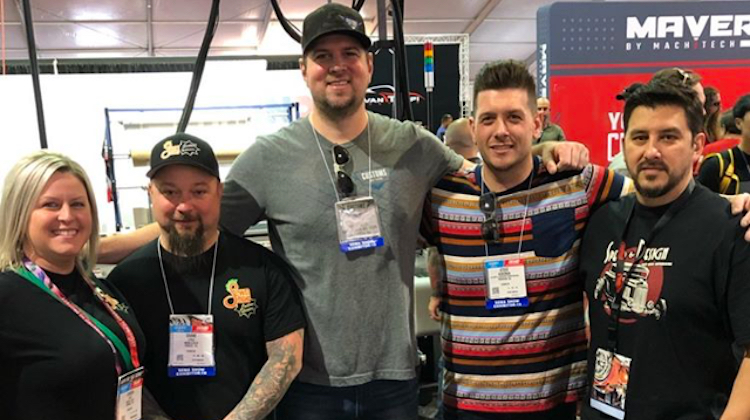 Every year, trimmers from all over the world enter the contest and gather at NC's SEMA booth to honor the winner, network with other pros and test drive NC's quality sewing machines.
"Seeing the camaraderie and info sharing among auto trimmers is unbelievable," said Mal. "Thanks to all who visited our booth and a special thanks to those who entrust their livelihood to NC Machines."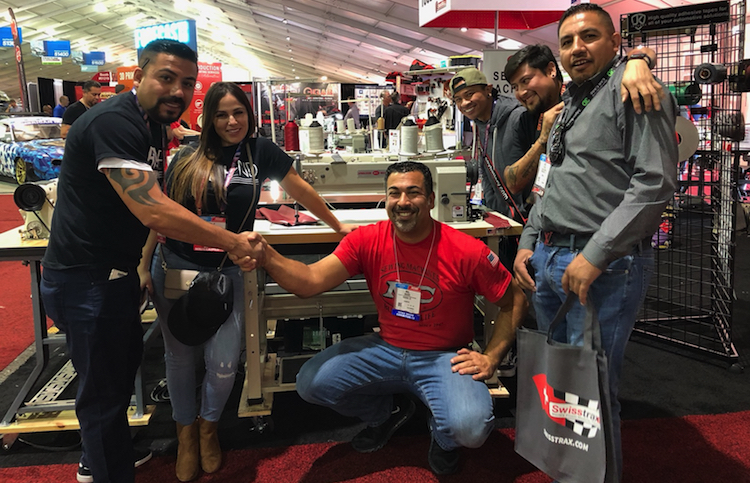 Stitchwurx is based in Coeur d'Alene, Idaho. Visit Stitchwurx.com and follow them on Instagram.
To learn more about NC Carpet Binding and Equipment, visit their website and follow them on Instagram and Facebook. Also check out Douglass Interior Products' website, Instagram and Facebook.