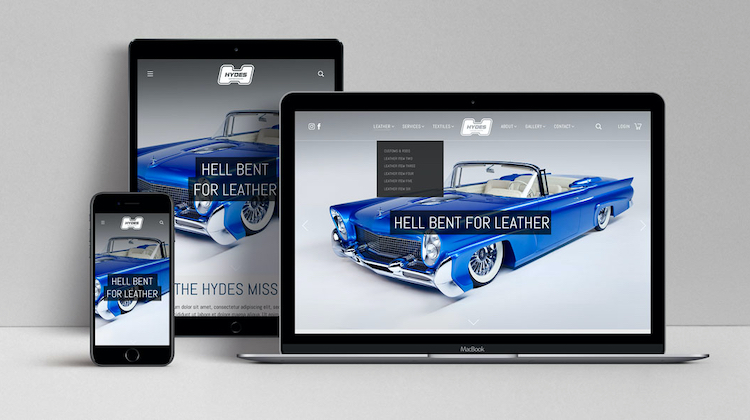 Can your auto upholstery shop use a new, modern website and digital marketing campaign? Then don't miss this opportunity from Hydes Leather.
To help grow your business, Hydes Leather is partnering with Studio Habgood, the same company that launched their beautiful website, to offer shops this special deal:
---
The Deal:
Hydes will contribute 20% of the cost of your new website or 20% off any digital marketing retainer.
Plus, every shop that inquires will receive a coupon code for 10% off Hydes Leather. (Just for asking!)
---
"As a small business owner, I understand how time consuming it is just to run the business day to day," said Aaron Laithwaite, CEO of Hydes Leather. "Then to have to put on a marketing hat and figure that part out is a stretch. When I partnered with Studio Habgood, I quickly realized how much an expert is needed to bring the ideas to reality and put your best foot forward."
You don't need any technical knowledge to launch a new website. Studio Habgood handles it all!
"The website process includes understanding what your goals are for the site, defining your key selling points, collecting photo assets and designing a mock-up for your new look and feel," said Sophie Habgood, studio founder.
"Once the design is approved, you will be sent a test link of the new website to review. Then it goes live!"
Aaron is ecstatic with how well Hydes Leather's website turned out.
"Our old site was adequate, but dated. Sophie and her team did everything. They looked at what worked and didn't work on our old site and turned it into something polished and professionalisms with what I think is a killer new style. I'm very proud of what we have now, and I feel it has really solidified our brand in the market," he said.
Best of all, it doesn't have to be a one-and-done relationship. You can ask Studio Habgood to continue helping you maximize your digital marketing.
"If you'd like, you can continue on an on-going basis to drive new customers and leads through to your website through monthly SEO, Social Media Advertising and Google Advertising," Sophie said.
Hydes is partnering with Studio Habgood on this promotion because they want to help your business succeed in 2020, and continue growing the auto upholstery industry.
"I thought sharing Sophie's abilities with our customers is a natural fit. If our customers are succeeding, then we are too, so it's a win-win," said Aaron.
To learn more about Studio Habgood, visit Habgood.studio, and follow them on Instagram.
For premium leather, Alcantara and more, visit Hydes Leather at HydesLeather.com, and follow them on Instagram and Facebook.