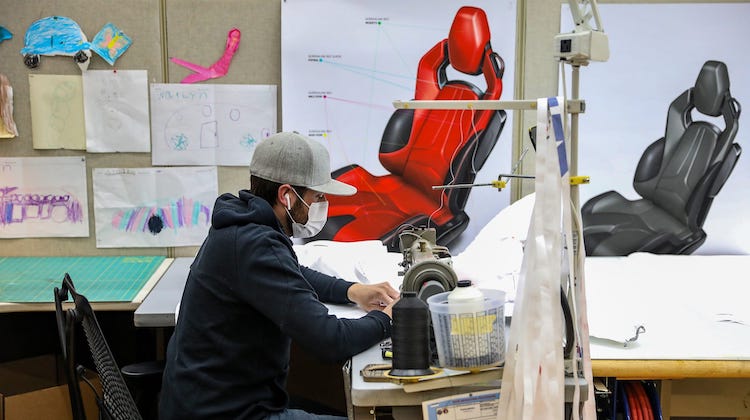 General Motors has transformed its trimming department in Warren, Michigan, into a production team for medical gowns to help protect health care workers battling coronavirus.
There, seven auto trimmers sit at their sewing machines for at least 10 hours a day, including weekends, sewing the gowns. Since late March, the team has made and delivered about 800 medical gowns to Henry Ford Health System in Detroit.
And even though they're among the few GM employees still working at the quarantined plant, there's nowhere else they'd rather be, said Steve Hart, director of Design Fabrication.
"The feedback from the hospital is unbelievable," said Hart. "We got one text from a nurse that said, 'I guarantee, you saved my life twice tonight.'"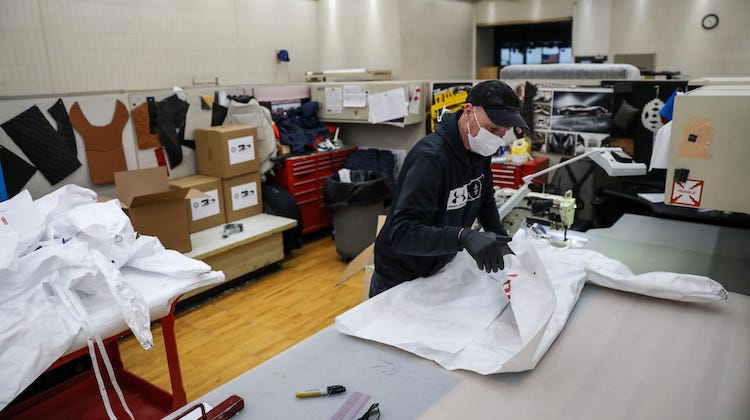 Hart told Detroit Free Press that he got the idea for manufacturing the gowns from a colleague whose wife is a physician at Henry Ford Health System. She was afraid that her team would soon run out of gowns and was looking for alternatives.
Figuring GM could help, Hart told him to have the hospital call the automaker.
"The trim shop is a huge sewing shop," Hart said. "They make everything from seats to headliners from scratch, for concept vehicles and show cars and even designs for future product."
"These are skilled craftspeople, and their skills have proven useful beyond automotive," he added. "They have a varied background. Some come from a family of upholstery makers. One's dad ran the corner upholstery store. Some came from the textile industry. It's industrial sewing, but it's also a work of art. It's unbelievable what they come up with."
Dan Lombardi, a former tailor and GM's senior trim technician leader, came up with a gown design, which the hospital approved before the team got started.
"My pattern background helped me to develop a medical gown and make it something they could use," Lombardi said. "I was able to go on the computer to design the pattern and then operate the machine to make that pattern, then go upstairs to sew it into a gown."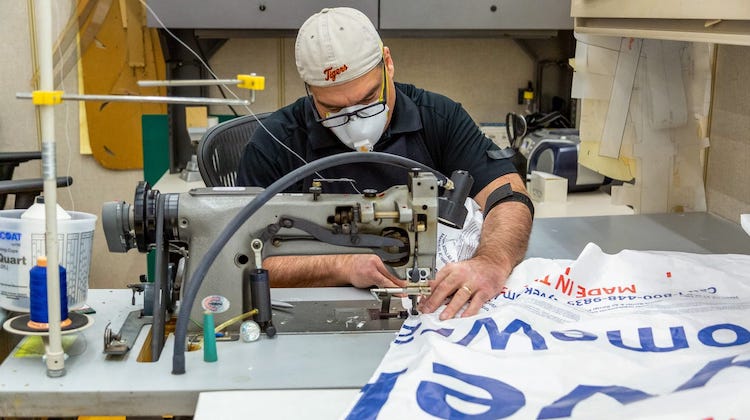 Of course, the team of paid volunteers take proper precautions to ensure they don't catch the virus themselves. All of them wear face masks and have their sewing machines spaced far apart. What's more, GM takes their temperatures first thing every morning.
"The hours that everyone on my team have put in far exceeds what they'd normally do," Hart said. "They start at 6 in the morning. We have calls at 7 o'clock at night to make sure we have everything right."
The team says the work has been extremely rewarding, and they plan on doing it until there's no longer a demand.
Hart sees it like this: "I am not in the car business anymore — temporarily — we're all in the medical field."
[Photos by Kimberly P. Mitchell, Detroit Free Press]