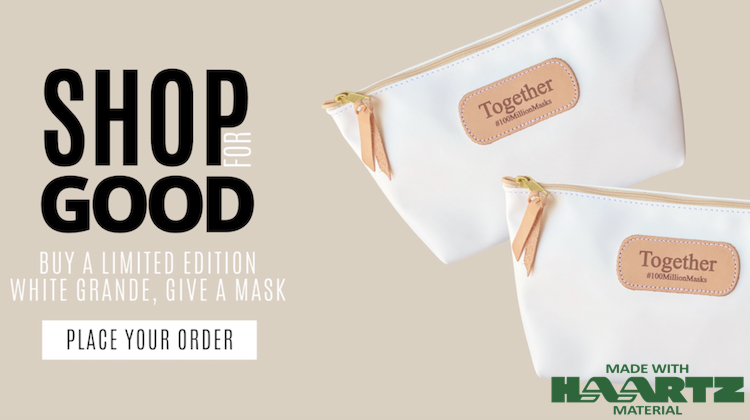 The Haartz Corporation has partnered with leather bag maker Jon Hart Design to supply food banks across Texas with face masks during the coronavirus pandemic.
The effort is part of the "100 Million Mask Challenge," where manufacturers are teaming up to supply the United States with personal protective equipment to stop the spread of Covid-19.
To do that, Jon Hart Design is making limited-edition white Grande travel bags from Haartz's quality canvas. The bags will be sold online for $34 each, with the profits used to purchase face masks for the food banks.
The messages "Together" and "#100MillionMasks" will be stamped on each bag as a reminder that by working together, we can overcome this health crisis.
That's not all! When checking out, customers can also choose to "buy one, give one" face mask for $15. For every Jon Hart Design face mask sold, the company will donate another to a food bank or community focused non-profit.
Haartz supplies canvas material to Jon Hart Design for a number of their products. The two companies have been partners for more than 20 years.
To buy a travel bag and support the campaign, visit jonhartdesign.com. But hurry, as the campaign ends May 31.
The Haartz Corporation is a world leader in highly engineered and uniquely designed convertible toppings. To learn more about Haartz, visit Haartz.com and follow them on Facebook, Twitter and Instagram.