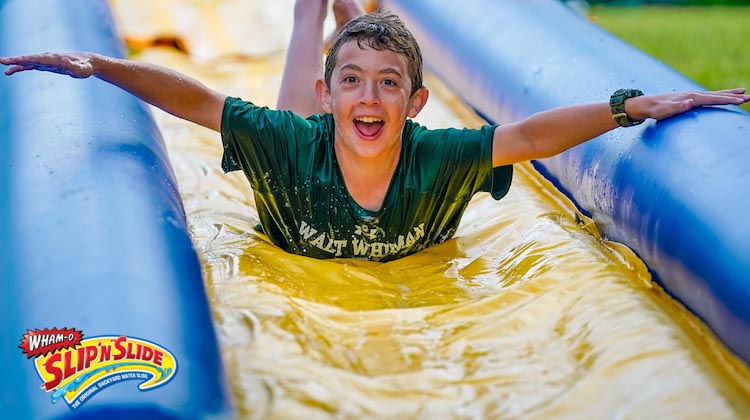 With summer in full swing, many kids are keeping cool by flinging themselves across long, wet plastic tarps — otherwise known as a Slip 'N Slide. But did you know an upholster created the first one?
Smithsonian Magazine recently published an article telling the story of how the Slip 'N Slide was invented. And it turns out, an upholster invented the very first one out of Naugahyde.
Here's an excerpt from the article:
It was the summer of 1960, and Robert Carrier had returned home from work to find his 10-year-old son, Mike, and his friends careening down their driveway in Lakewood, California. To escape the heat, the boys had turned the hose on the painted concrete, creating a cool, slippery surface to play on.
"Mike told me the story of his dad saying, 'well you guys are going to kill yourself sliding on concrete'," says Tim Walsh, game inventor and author of "Timeless Toys: Classic Toys and the Playmakers who Created Them." 
The next day, Carrier, who worked as an upholsterer with a boat-manufacturing company, brought home a 50-foot roll of Naugahyde, which he unraveled on the driveway. The vinyl-coated, waterproof fabric was a vast improvement—slicker and safer—over the perilous concrete. But Carrier's son had given him an idea.
According to Carrier's 1961 patent, the "aquatic play equipment" was a portable surface for the "sport" of body planing. From his original strip of Naugahyde, Carrier took a ream of the plastic material and sewed a tube into the side, forming an "irrigating duct" to which a hose could attach. The duct had punctures along the length of it, from which water could be released via pressure from the hose. Seams stitched across the length of the fabric at regular intervals also carried water laterally, wetting the repellant surface but not making it soggy.
Not too long after, Carrier partnered with toy company Wham-O to manufacture the "Wham-O Slip 'N Slide Magic Waterslide." To make it affordable, they replaced the 50-foot roll of Naugahyde with a 25-foot yellow plastic tarp.
By 1961, the Slip 'N Slide had become a national sensation, selling more than 300,000 units. Today, it remains a popular all-American pastime.
To read the full story, check out "A Brief History of the Slip 'N Slide."