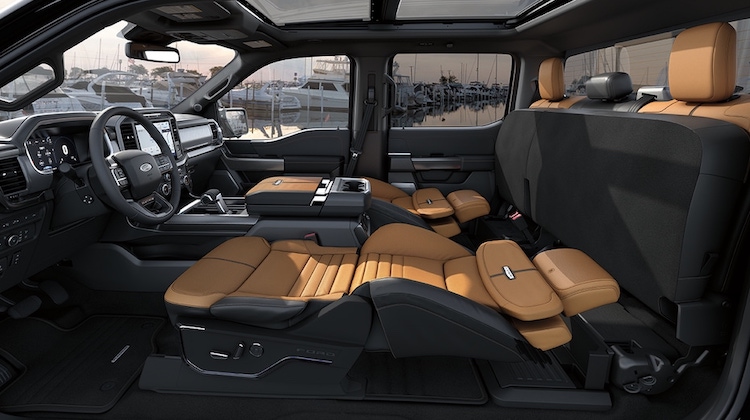 It's never fun to sleep inside a car. But the 2021 Ford F-150 is taking a crack at making it a bit more comfortable.
Ford Motor Company recently debuted its "Max Recline Seat," which allows drivers and front-seat passengers to recline their buckets into optimal sleeping positions.
"The all-new Max Recline Seats in F-150 were inspired by those adjustable beds you see on TV to help make our customers more comfortable while resting in the cab," Ben Kulhawik, seat design and release engineer, said in a press release. "Our F-150 customers are constantly on the road or at a job site and being able to nab a few minutes of rest really is a boon to daily productivity."
What sets these seats apart from other recliners is that when the seatback drops, the back of the cushion also rises by 3.5 inches to provide a more level sleeping surface that supports the lower back. Meanwhile, the upper part of the seatback tilts forward to support the neck.
"There are no additional motors in the seat — just a simple mechanism that relies on the customer moving the seatback using the power recline function," said Kulhawik. "It's simple, it's effective, and we believe our customers will love how much more productive they can be just by getting a little more rest during downtime."
No way the seat is as comfortable as the Temper-Pedic mattress in your bedroom. But Ford compares it to "a first class experience on one of the better airlines."
The "Max Recline Seat" will be offered on King Ranch, Platinum and Limited F-150 trucks starting in 2021.