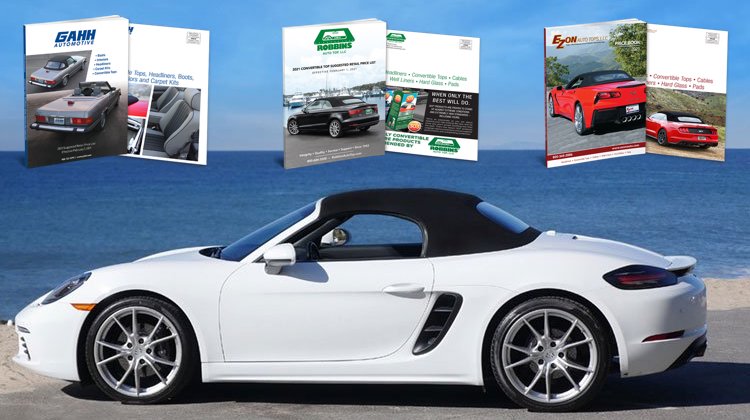 Coming off a difficult year, Top Down Group is looking forward to a brighter and more successful 2021 for everyone in the auto upholstery industry.
The company — which owns GAHH Automotive, Robbins Auto Top and E-Z ON Auto Top — faced many hardships in 2020, but managed to weather the storm.
"We have been very fortunate to keep our factories running throughout," said Tim Stewart, vice president of sales & marketing. "Our employees have been tenacious working through these difficult times. Our service has been impacted due to raw material shortages but we are working closely with our vendors and are filling the gaps as quickly as possible. We appreciate your understanding as each of our brands continues to manage their trim shop relationships and provide product in as timely a fashion as possible."
To help trim shops crush their business goals, Top Down Group is revamping and issuing new price books, sample books and swatch sets.
On February 1, the three convertible suppliers will mail their 2021 price books to shops across the United States.
The price books are jam-packed with helpful product information. Robbins Auto Top added many tech notes, diagrams and a chart showing the OE material options for most vehicles that came with canvas tops. Robbins and E-Z ON have an excellent convertible top swatch set available, and GAHH has a full sample book which includes topping materials, seating leather and vinyls.
GAHH Automotive, Robbins Auto Top and E-Z ON Auto Top use Haartz fabrics and have been manufacturing tops for decades — Robbins for over 75 years!
Together, the three companies are a powerhouse in the auto trim industry, sharing knowledge, resources and expertise across manufacturing plants. In fact, there aren't too many trim shops in the United States that haven't ordered and installed one of their tops.
GAHH manufactures its products in North Hollywood, California. Robbins is based in nearby Oxnard, California. Meanwhile, E-Z ON has its headquarters in Iva, South Carolina.
To learn more about GAHH Automotive, visit GAHH.com. You can also visit RobbinsAutoTopCo.com and EZONAuto.com.