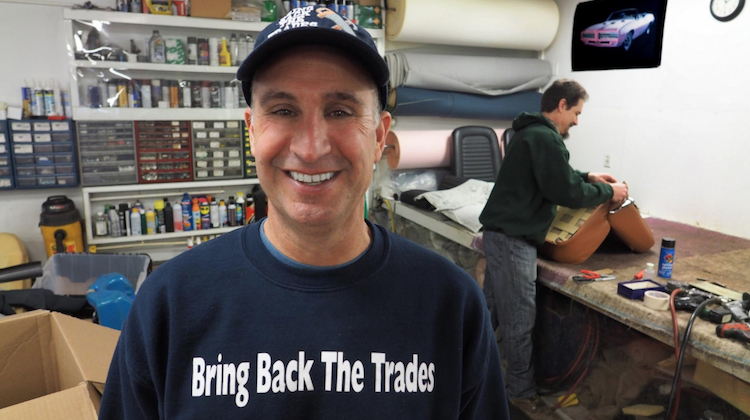 Steve Turner of Turner's Upholstery has launched a nonprofit organization called Bring Back the Trades to encourage young people to learn practical skills that are in high demand.
Steve made headlines in 2018, when he began selling hats and t-shirts with the phrase "Bring Back the Trades" emblazoned on them to raise awareness about a shortage of skilled workers.
At the time, Steve said too many tradesmen were retiring, but not enough young people were learning the necessary skills to take their places. He said it was a problem affecting auto professionals, welders, electricians, plumbers, contractors, and more.
"Our goal is to donate a portion of [hat and t-shirt] sales to a scholarship program in which individuals can gain access to the trade education of their choice and ultimately gain employment in that field, which is vital to the growth of our nation," he told local news website Fosters in 2018.
True to his word, he did exactly that.
Steve recently launched Bring Back the Trades, which awards nine $1,000 scholarships a year to students attending trade school. The fund is supported by individual donors and merchandise sales.
For now, the scholarships are only available in New Hampshire, Massachusetts, Maine, Vermont and Rhode Island. But he has plans to take the nonprofit organization and its scholarship fund national.
Steve says there's nothing wrong with going to college and finding an office job. But it's not for everyone.
"I knew from 5 years old I wasn't going to college," he told New Hampshire's Seacoast Online. "I worked my way up and started my own company when I was 19 years old. I'm here for the kids that don't have a path; they don't have the guidance to know that there's something else out there other than sitting in a classroom."
To learn more about Bring Back the Trades, including its scholarship program, visit bringbackthetrades.com.