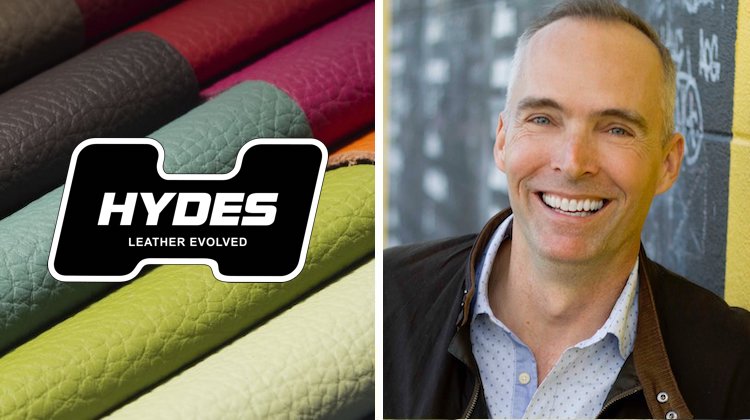 We recently asked our Instagram followers to pose their burning questions about automotive leather to Aaron Laithwaite, founder and CEO of Hydes Leather.
They asked about everything — from skiving to conditioning to steaming and more. And, of course, Aaron provided loads of helpful insight.
Check out some of their questions and answers, which might help you as well:
Andrei_Victor21: How do you determine leather quality?
Determining leather quality is a bit of a skill you develop over time. There is not a simple grading system, and there are a lot of options within each category.
The general rule is the more you have to treat a leather the lower its quality.
A beautiful hide that is free of scars and blemishes will be used for pure aniline leather. Aniline is a water-based dye that soaks into the hide like if you're dying a t-shirt. This finish is typically semi transparent. These hides are expensive and they usually end up in furnishings and garments.
Next you have full-grain leathers. These are leathers that may have some small blemishes, but not so many that they take away from the hide quality. They are left visible on the hides. These hides will be lightly surface dyed with pigments and finished and optionally printed. That's it. These are our top automotive hides.
Then you have corrected-grain hides. These hides have open scars and blemishes that get filled with a flexible stucco or mastic. Then the hide is sanded smooth, and a new grain is printed into the hide. Then a finishing the same as full-grain leather happens. These hides are a bit lower priced than full-grain hides, but are still of very high quality. And they are very clear of any visible defects, which makes the yield very high. Look at our Prima Nappa range as an example.
Lower-quality hides that may have a higher frequency of defects will get corrected and printed with more pigments and then printed with a larger print. These are very durable hides that are great for maximum use. It's what you would find in a leather interior when a Nappa upgrade isn't requested.
Stitch_Concepts: Are your leathers OEM rated or only for show/weekend drivers?
We have a range of leathers. Our OEM leathers are not just rated OEM, they are OEM straight from the tanneries that supply your favourite car brands. We also have leathers that are not OEM quality, and are intended for lighter use. Some want very soft interiors, others want distressed leathers, etc. There are many applications and many leathers to meet them. Give us a call, we'd be glad to discuss the differences and find what works best for you.
Luke.Millington: How do you add the grain to leather?
Grain is added either before pigment dyes are sprayed, or at the final stage after pigments. The machines that print the leather are heated, so it's essentially a hot iron process.
Note: the auto industry switched to using printed leather to increase the leather yield and to speed up the trimming process. With printed leathers, the upholsterers didn't need to consume their time grain matching the panels.
Scotts_Elle: How thin can you skive Nappa leather for wrapping panels?
Great question. It depends on the machinery you use. A standard skiving machine can get it to about 0.7mm. This is about as thin as you want to go for wrapping the dash,  suspended headliners, and other surfaces.
However, if you want to wrap intricate items like vent louvres, you can use a macro skiver which will get you down to paper thin. Hope this helps.
Andrei_Victor21: Does factory leather upholstery actually need conditioning?
Andrei, great question, and also a hotly debated one. It is my opinion that OEM automotive leather does not need any conditioning, but just occasional cleaning. The marketers of leather cleaning and conditioning products will surely tell you I'm wrong though.
You see, when automotive leather is tanned, it has the prescribed amount of fat liquors added. More fat liquors makes softer leather, less fat liquors results in stiffer and harder wearing leather.
Once the surface dye has been applied and cured, the leather gets a urethane surface coating (think clear coat on your paint). This effectively seals the surface of the leather. So, now when you apply conditioners, you're really just spreading it around on the surface… and on your clothes. If you do manage to get it to soak through, you're actually affecting the strength of the skin fibres under the surface. This can be disastrous in hot and humid climates. Your water-based lotion isn't intended to be in the core of the hide. Over time your water-based lotion evaporates.  In my opinion, this is a factor that causes dashboard leather to shrink in the sun.
If you really want to use conditioner, it shouldn't be more than 2 times per year. For reference, I have sports cars and classics. I only clean my leather with a mild soap and water, and that's it.
Harrison_Poynter: I work with vinyl. How does leather compare for wrapping complex shapes like a dash?
I'm not an upholsterer, but I would generally say you'll have an easier time with vinyl since it is very stretchy when heated. But there are not many better sensations in an interior than rubbing your hand over a smooth leather dash. It's worth the extra effort.
DidUpholstery: Should I steam the front side of leather or use a heat gun to get the wrinkles out?
Great question. With OEM leathers steaming the front of the leather is fine since it has a urethane surface treatment. But never get steam around the back or your leather may shrivel or warp. Heat guns are our favourite method. But to each their own preference. Try both methods, you'll find the one you're most happy with.
Andriusbando: What kind of leather is best for motorcycle seats?
There are a few different motorcycle seat applications. Show bikes, street bikes, cruisers, commuters, etc.
As a rule, you need something with maximum UV protection. Any automotive Nappa will have the right amount of protection since they're tested to be under the sun in convertibles too.
If you're looking for leather that can get wet and you don't have to worry about mold and mildew, I would suggest our Outdoor and our Xtreme collections. These leathers are designed to withstand whatever weather you can throw at them. They are water resistant and treated with antibacterial properties. Ride on!
Dallyboy216: What are some differences between Hydes Leather and Relicate leather?
Thanks for your question. We at Hydes are focused on automotive leather. I cannot speak to what others sell, but with Hydes you can be sure you're getting leather that is intended to be used for automotive. Our leathers are all tested for rubbing resistance (wet and dry), lightfastness (UV resistance), tear strength, and several other tests.
It is your skills that make an interior look great. It is our tanning skills that make your leather last and keep it looking great.
1965_ZR1: Where can I get a Hydes Leather sample book?
You can order them from our website. You'll need to register to be a dealer first, as we supply the trade only.
---
Aaron Laithwaite is founder and CEO of Hydes Leather. To ask him a question about automotive leather, email info@thehogring.com. Learn more about Hydes Leather at HydesLeather.com. You can also follow them on Instagram and Facebook.