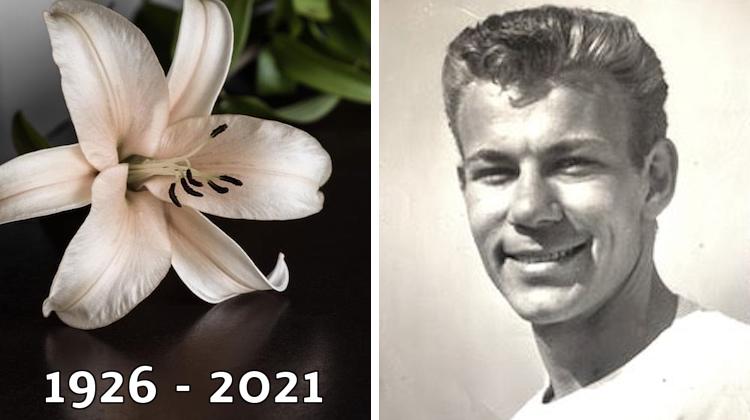 Trimmer Donald Eugene Ferrara of Rancho Palos Verdes, California, has died at age 94.
Donald was born on November 23, 1926 in Los Angeles. He grew up during the Depression, and had to work several jobs to help his family make ends meet. Among his many childhood jobs, Donald shined shoes and reset pins at a bowling alley.
While attending Washington High School, he worked at the Douglas Aircraft plant in El Segundo welding bomb racks on the SBD Dauntless dive bomber for $.75 an hour.
Donald left high school early to enlist for naval duty in World War II as an aviation metal smith. In 1946, he returned from the war and took up a job at Speedo-Tach, where built car dashboard gauges and instruments.
He quickly became enamored with cars and pursued a career in automotive restoration and design. Through trial and error, he taught himself the crafts of auto upholstery and body work, and began working on custom hot rods.
In fact, Donald is considered one of the pioneers of Southern California's 1940's and 1950's hot rod scene, his obituary says.
His beloved 1929 Ford Model A V8 Roadster took 1st place at the 1950 LA Car Show, was featured on the August 1951 cover of Hot Rod Magazine, and was driven by a Charles Bronson in the 1953 Warner Bros Film "Crime Wave."
Donald also completed the interior upholstery of the George Barris customized 1963 "Asteroid" Corvette Sting Ray, as commissioned by famed powerboat racer Bob Nordskog, who also happened to be his brother-in-law.
In addition to customizing hot rods, Donald also served as a frogman with the Los Angeles City Fire Department. During his 28 years with the department, Donald responded to the Bel-Air Fire, the Watts Riots, and the explosion of the super-tanker Sansinena in the LA Harbor.
As if that weren't impressive enough, Donald was also a body builder, successful real estate investor, award-winning water skier, private pilot, and even in a motorcycle club.
"But Don's most noteworthy accomplishment was being an amazing father, grandfather, and friend to everyone he met, and he leaves us with wonderful memories of a life well lived," his obituary says.
Donald died from natural causes on February 16, 2021. He is survived by his ex-wife, Patricia Jo Ferrara, and three children, Deanne Iacono, Darren Ferrara and Dean Ferrara. He is also survived by his three grandchildren Philip, Claire and Olivia Iacono.
May he Rest In Peace.