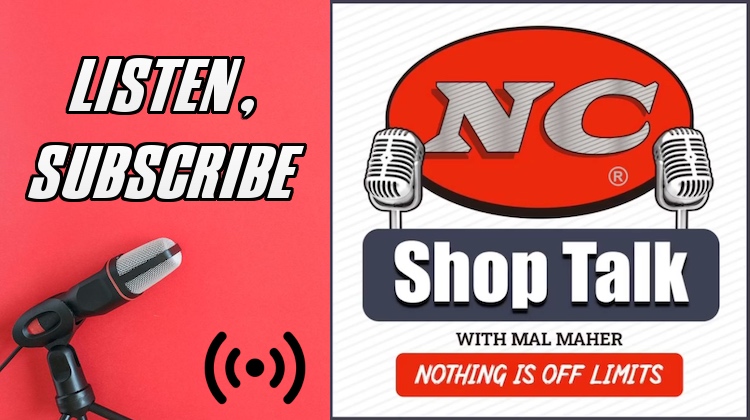 "NC Shop Talk," the auto upholstery industry's first podcast, is finally here — with three awesome episodes for you to listen to.
Mal Maher, podcast host and CEO of NC Carpet Binding & Equipment, wasn't lying when he said "nothing is off limits." The podcast touches on everything from the craft of auto upholstery to… um… manscaping.
It's a wild good time! You'll laugh as much as you'll learn.
The first three episodes are:
1. Customs by Vos: Designing Modern Interiors While Preserving Your Car's Heritage with Dave Vos
If you're into classic cars and motorcycles, you're going to love this first episode. Listen up as Mal interviews Dave Vos, owner and operator of Customs by Vos. Aside from talking about creating masterpiece designs, get to know the lighter side of Dave as Mal puts him through the "Rapid Fire Hot Seat."
2. Cato's Custom Upholstery: Your Butt Will Thank Him with Phil Cato
Phil Cato of Cato's Custom Upholstery makes the most comfortable seats to pamper your backside. Tune in as Mal talks to Phil, a proud USAF veteran and former cast member of the "Iron Resurrection." Learn how to become a top trimmer and share some laughs as Mal and Phil talk shop and life.
3. Iron Resurrection: The Inside Story & Rise To Fame
Joe Martin, winner of Discovery Channel's "Biker Build-Off," and his wife Mandi dropped by the show to chat with Mal. The couple runs Martin Bros. Customs, which is home to the hit show "Iron Resurrection." Listen as they talk about the future of the custom car and bike industry.
You can listen on Apple Podcasts, Spotify or anywhere else you listen to podcasts. Just click here, and make sure you subscribe!
We binge listened to the three episodes while working in our shop today. It's a great way to pass the time and have some fun.
To learn more about NC Carpet Binding and Equipment, visit their website and follow them on Instagram and Facebook.