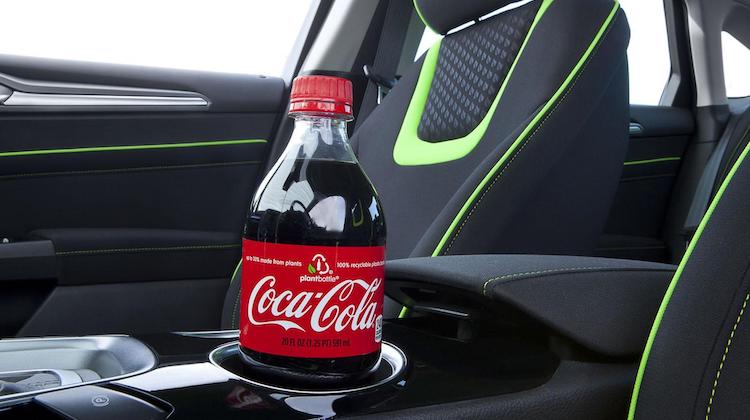 Automakers, from Ford to Mercedes, are upholstering their vehicle interiors in fabric made from recycled plastic bottles. But how big of a dent is that putting into the problem of plastic waste?
Green Fiber and Green Tech, two companies collaborating to transform PET plastic bottles into automotive fabric, say they're recycling 2 billion bottles a year that would have otherwise gone into oceans, forests and landfills.
That's amazing news, considering it takes 450 years for a single plastic bottle to decompose, according to Chariot Energy.
Companies like Green Fiber and Green Tech collect, shred and transform those bottles into fabric that's used in automotive upholstery, as well as clothes, netting and other products. Not only is it a great way to recycle waste material, but products made from these sustainable fibers produce 50% less carbon dioxide emissions than virgin fiber materials.
Not surprisingly, automakers — who are facing increased pressure from governments to lower their carbon footprints — have flocked to these fabrics.
"The company's fibers are used throughout the interior of cars and with various commitments made by car manufacturers to become more environmentally friendly and sustainable, using Green Fiber products is no longer a nice to have but an act of responsibility due to the significant reduction in CO2 emissions compared to virgin polyester fiber alternatives," says Textile World.
Ford, Mercedes, Nissan, Audi and BMW are just some of the many automakers that are currently upholstering their cars in fabric made from recycled plastic bottles.
Still, the world has a long way to go to overcome our problem with plastic bottle waste. The Earth's population consumes 1 million plastic bottles every minute, according to Plastic Soup Foundation. It's estimated that we will use 583.3 billion plastic bottles this year.
Hopefully, the automotive industry's efforts will inspire others manufacturers to take up similar efforts and defeat this problem once and for all.
Related Stories: