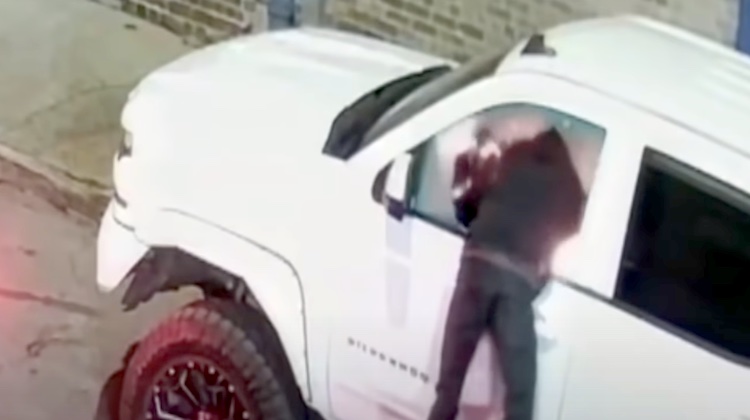 A truck owner in New Orleans is making headlines for rigging his interior with a flash-bang to stop would-be thieves.
The Louisiana city is notorious for smash-and-grabs, where passersby break into vehicles to steal whatever valuables they see inside. The truck owner, who chose not to disclose his name, said he was tired of being a victim.
After having his truck's window smashed seven times, he finally had the idea to install a flash-bang in the cabin. Sometimes called stun grenades, these devices explode, producing a loud bang and blinding flash of light designed to temporarily disorient a target's senses. They're often used by police and military, and are widely considered to be less lethal than typical explosive devices.
On April 1, the truck's flash-bang went off in the face of a thief, and it was all caught on surveillance video.
"To see him like gleefully walk up and just smash my eighth window in the past couple months and jump in and then you know to see the detonation go off and his reaction," the man told Fox 8 News. "I don't want this guy to die for what he did, but I don't want him to just be able to smash and grab and run away."
The man said he rigged the flash-bang in the center console, which is usually the first place a thief looks for valuables.
"He probably didn't get hurt that bad, but it wasn't pleasant and it might deter him and his friends and tell other people not to do this too because, without something like this, there is no consequence because they're not going to get arrested," he said.
In New Orleans, smash-and-grabs have become an epidemic. City crime data shows vehicle burglaries are up 28% across the city, compared to last year, Fox 8 reported. In the man's neighborhood, they're up 116%.
"Leadership has failed and more ways than one when it comes to this situation, just crime in the area, like, I reported to the police almost every time and I don't blame the police for this, they're understaffed and like there's too much crime. I really blame the fact that like these, these people get caught, and then they basically get bailed out," he said. "Whoever did this, definitely, had a bad night. He might never do it again because every time he goes in there, this could happen to him."
Flash-bangs are heavily restricted in the United States. New Orleans Police Department told Fox 8 that anything rigged to detonate can be considered a bomb and could be illegal. However, the truck owner will not be charged with a crime.
Hopefully his truck's interior wasn't badly damaged either.