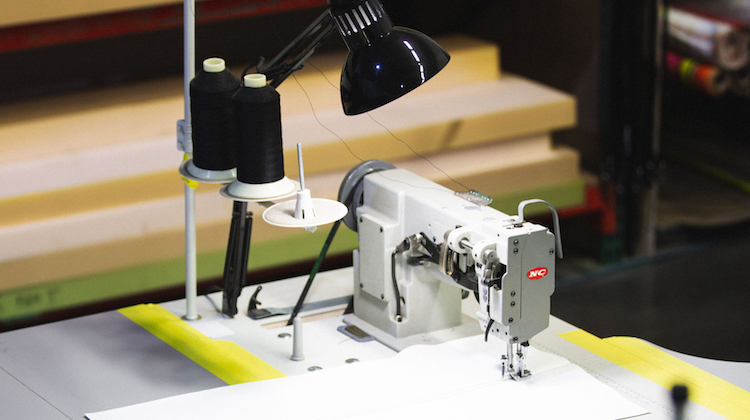 Act fast if you're in the market for a new industrial sewing machine, skiver, serger or carpet binder. NC Carpet Binding & Equipment is offering special SEMA discount pricing, but it expires on May 31.
Check out the deals below and call: 973-481-3500.
"You don't have to wait until the SEMA Show in November to buy a new machine," said Mal Maher, CEO of NC. In addition to  huge discounts, you'll receive the NC 5-year limited warranty, which is unheard of in this industry.
You'll also be entered to win a "Trimmer's Basket of Goodies" that includes quality tools, supplies, and swag:
Cordless leather & carpet cutter
1 roll of paint protection tape
Left-hand side top stitch foot
Welting foot of your choice
75th Anniversary NC Shirt & Sticker set
TAKE A LOOK AT THESE DEALS!
The sale includes all of NC's most popular models…
NC Long-Arm Sewing Machines
» NC6L:$5,250 / NOW $4,599
How about a 30″ long-arm? This is NC's biggest selling specialty unit.
» NC1508L25 Extra Heavy Duty: $5,750 / NOW $5,099
This 1508 class 25″ long-arm will make sewing any large project a breeze.
» NC5L: $5,750 / NOW $5,099
From straight stitches to zig zags, this 20″ walking-foot machine has you covered.
NC Twin-Needle Sewing Machines
» NC11: $3,500 / NOW $3,099
Sew French seams in ½ the time.
» NC11L:  $5,900 / NOW $5,199
Sew French Seams in ½ the time & sew deep with this 25″ long-arm.
» NC-POST: $4,500 / NOW $3,999
This twin-needle post-bed provides optimal maneuverability & makes exact turns.
NC Standard Arm Sewing Machines
» NC6: $1,850 / NOW $1,699
The same machine since the 1970s, this single-needle, walking-foot is a workhorse.
» NC1508NH Extra Heavy Duty: $1,950 / NOW $1,799
1508-class power allows you to sew even the heaviest goods with ease.
NC Specialty Units
» NC1646-OS: $14,500 / NOW $12,499
Set off any custom interior with this automated decorative stitch machine.
» NC553 Cylinder Bed Single Needle Sewing Machine: $3,500 / NOW $3,099
Want better maneuverability, but can't spend on a post bed? You've found it!
» NC7: $7,250 / NOW $6,499
For shops that need it, this extra heavy-duty lockstitch machine can sew through anything — even wood!
Other NC Machines
» SK2019 Leather Skiver: $1,600 / NOW $1,399
Get rid of unsightly bulk with this awesome leather skiver. It comes with a built-in vacuum system.
» NC1508NH-B Heavy Duty Carpet Binder: $2,500 / NOW $2,199
Everything the NC1508NH is, plus an additional binding attachment.
» NC 81200AIR Auto Mat Carpet Serger: $7,000 / NOW $6,299
This industry standard machine has been made in the USA for more than 70 years.
JUKI Sewing Machines
» JUKI 1508N: $2,700 / NOW $2,599
An extra heavy duty, single needle, walking foot machine that gets the job done.
» JUKI 1508NH: $3,350 / NOW $3,199
It's just like the Juki 1508N, plus a foot control knob and increased speed.
» JUKI LG158-1: $12,000 / NOW $11,500
A single-needle, 30″ long arm.
» JUKI LG158-2: $13,500 / NOW $12,950
A twin-needle, 30″ long arm.
Of course, NC provides flat-rate shipping, interest-free financing, worldwide shipping and reliable repair service.
ORDER YOUR MACHINE TODAY
Have any questions about these machines? Call CEO Mal Maher at 973-481-3500 or email malmaher@nccarpet.com.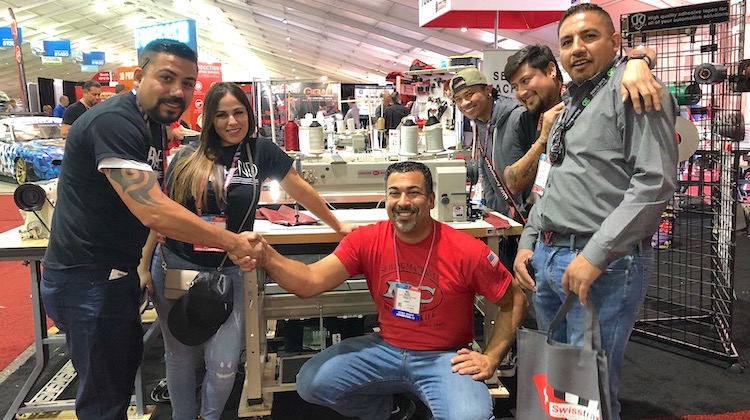 "Our machines arrive fully assembled; None of that knocked-down nonsense. They are triple checked before shipped and set to your specifications," said Maher.
To learn more about NC Carpet Binding & Equipment and check out their high-quality sewing machines, visit N-CCarpet.com and follow them on Instagram.  Also don't forget to tune in to NC's Podcast "NC Shop Talk."