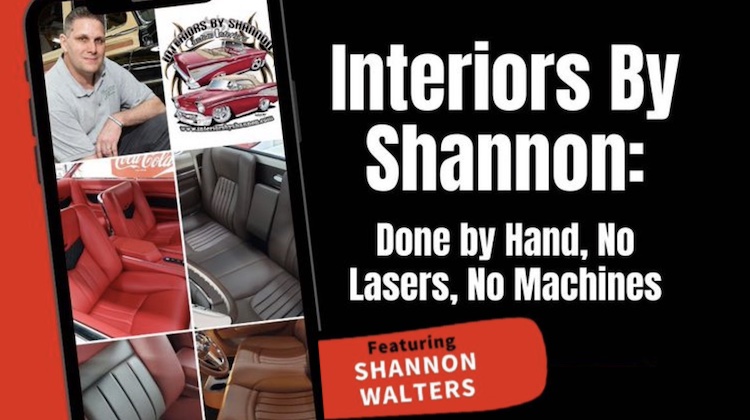 NC Shop Talk brought back Shannon Walters of Interiors by Shannon for a great conversation about auto interiors and more.
NC Shop Talk is the auto upholstery industry's first podcast. It's hosted by Mal Maher of NC Carpet Binding & Equipment.
In the latest episode, Shannon and Mal chat about the NC Auto Interior of the Year: Young Guns Challenge, the 2022 SEMA Show, some of Shannon's latest projects and more.
It's a great conversation worth eavesdropping on. Check it out!
In this episode: What's new with the 2022 NC Auto Interior of the Year contest? Why is Shannon so inclined to help the industry? What's going on with SEMA and other car shows?
That's not all! Shannon answers some questions from the audience, shares his thoughts on electric vehicles, and reveals how long it takes him to finish a complete interior.
You can listen to the episode on Apple Podcasts, Spotify or anywhere else you stream. Just click here, and make sure you subscribe!
To see Shannon's work, visit InteriorsbyShannon.com, and follow his shop on Instagram and Facebook.
To learn more about NC Carpet Binding and Equipment, visit their website and follow them on Instagram and Facebook.
Related Stories: