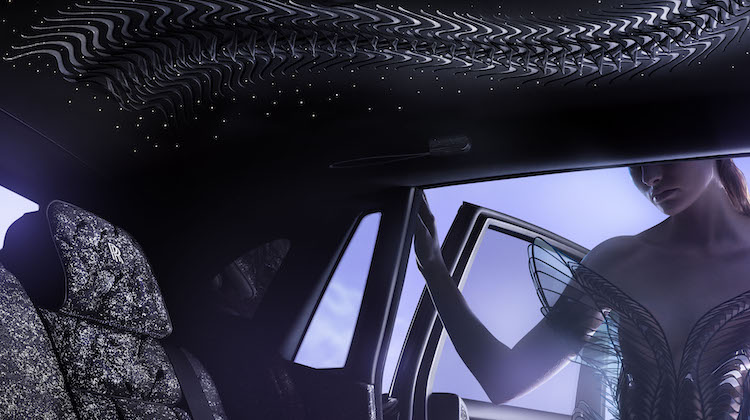 Rolls-Royce recently unveiled its Phantom Syntopia, which features the most technically complex bespoke headliner it has ever produced.
The Phantom Syntopia was designed in partnership with renowned Dutch fashion designer Iris van Herpen and took four years to complete. Its interior is based on the principles of biomimicry, in which art is inspired by patterns and shapes found in nature.
To that end, the headliner follows a "Weaving Water" theme, where the British automaker's craftsmen used textiles and fiber optics to simulate "the elusive, ethereal beauty of fluid in motion."
"On opening the magnificent coach doors, the eye is immediately drawn to the Weaving Water Starlight Headliner, the most technically challenging version of this signature Rolls-Royce feature ever produced," Rolls-Royce said in a news release. "It was crafted using a single sheet of flawless leather, selected from over 1,000 hides. Precise symmetrical cuts reveal a silver 'liquid metal' texture made from woven nylon fabric underneath, used in Iris van Herpen's 'Embossed Sounds' collection, giving the headliner a three-dimensional appearance."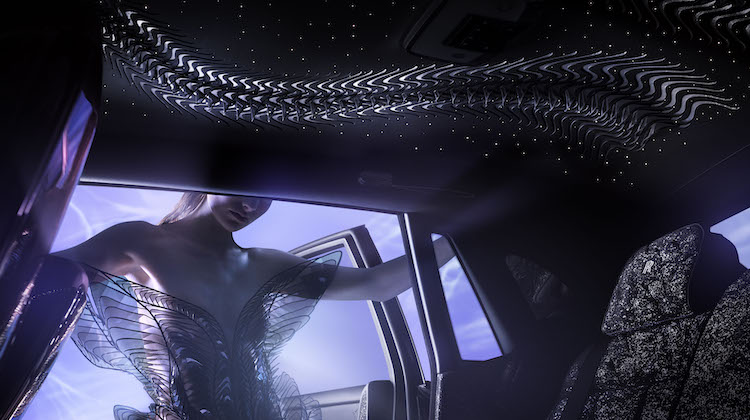 "It is finished with 162 delicate petals made of glass organza, applied by members of Iris van Herpen's Couture team who travelled to Goodwood to undertake the work – a process that took nearly 300 hours," Rolls-Royce added. "In addition, 187 of the 995 sparkling fiberoptic 'stars' were individually placed by hand alongside the artwork; illuminating sequentially, starting from the rear and moving to the front, they create a feeling of movement."
The Weaving Water theme continues throughout the cabin, including on the seats. But the ceiling is what really stands out the most. In total, the headliner took nearly 700 hours to complete.
Wrap your head around that! In most trim shops, 700 hours should cost $45K – $52K just in labor. No doubt, Rolls-Royce charges exponentially more.
Related Stories: