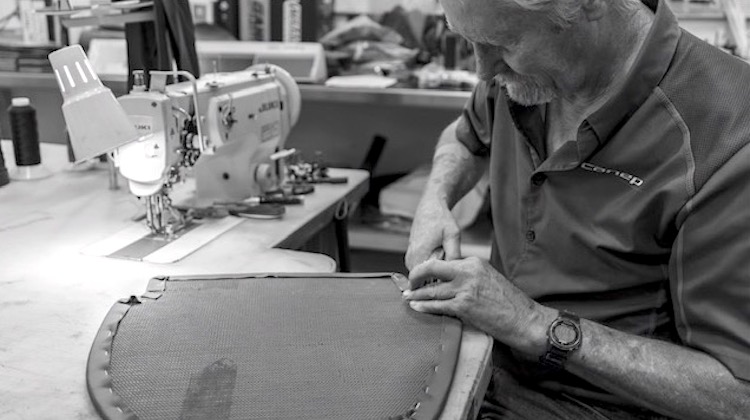 Master trimmer Mike Johnson of Santa Cruz, California, has died at age 67.
Mike was born on October 31, 1955 and raised in Palo Alto, where he was a "classic Northern California guy" — tall and lean with straw blonde hair, according to his obituary.
After completing his studies, Mike pursued a career in auto upholstery, where he worked alongside other master trimmers and built a reputation for excellence.
"Mike and his siblings, Mitch and Judy, learned to sew early on from their grandmothers, and all became talented creators stitch by stitch," his obituary says. "Mike began working in the auto upholstery industry as a teenager, and it became a 40-year trimming career. Mentored by Sid Chavers, Mike worked alongside his brother Mitch for many years and ended his career by developing the upholstery department at Canepa in Scotts Valley. He was considered the best of the best in trimming, a fine craftsman whose hands held so much knowledge and the respect of those throughout the industry. His artful touch left his mark on some of the world's most beautiful and collectible cars and most of the Porsche 959 in it. Mike was humble about his skills and proud of his work. Mike worked very hard at his craft because he always worked for and with the people he loved."
Mike retired in 2021. At the time, Kat Johnson, his daughter, published a beautiful article on The Hog Ring honoring him for his long, storied career.
She wrote: "For Mike, it's been a whopping 47 years in the industry and his back can feel it. He's been pulling staples, ripping out old seats, stitching in traditional techniques and restoring classics since he was a teenager. … Mike says he stuck with auto upholstery because 'it's both challenging and rewarding.'"
Of course, there was more to Mike than auto upholstery. He was also a loving family man.
"As a Father to Lauren and Katie, Mike practiced the proverb about 'teaching a man a fish', by exemplifying how to make and do for oneself. This pedagogy produced two incredibly strong-willed, skilled, and self-reliant women. Of all the things he made in his life, there is no doubt that it was his daughters in which he took the most pride," his obituary say.
Sadly, Mike died of cancer on June 9, 2023. "He was committed to finding treatment to eliminate the cancer they found in his lung. However, his body, which had worked so hard, was, like many a car seat he replaced, simply worn out," his obituary says.
He is survived by his parents, Dean and Lorraine; his sister Judy; and his daughters, Lauren, and Katie.
May he Rest In Peace.