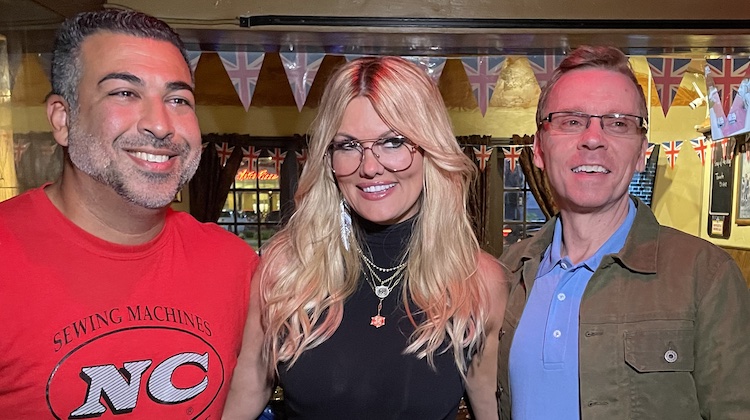 If you're headed to this year's SEMA Show, make sure to keep an eye out for Mal Maher of NC Carpet Binding & Equipment and Randy Maggard of Moore & Giles, who will be walking the show floor giving away prizes.
On Wednesday, November 1, Mal and Randy will be walking the North Hall and Central Hall between 12:30 pm – 5:00 pm. You can meet them at 12:30 pm in between North and Central hall. If you can't meet them until later, track them on Instagram as they make their way around. Mal will be wearing a red NC shirt and Randy a white golf shirt.
If you spot them, you could win a leather hide, Moore & Giles leather travel bag, upholstery and carpet scissors, cordless leather and carpet cutter, sewing feet, NC shirt, Moore & Giles shirt, paint protection tape, French seam tape and so much more!
"Find us and say hello," said Mal. "We want to meet as many auto trimmers as possible — after all, networking and seeing your builds is what this show is all about. By just finding us, you can take home some awesome prizes."
Also, if you have a vehicle build on display, let Mal and Randy know ASAP. They'll put it on their schedule to check it out and might even bring a crowd. Just send a message to them on Instagram, including the booth number. If the build features Moore & Giles leather, you'll automatically be entered into a drawing for a special prize package from Moore & Giles.
"It'll be a great way to see as many of you as possible and bring some attention to the interiors on display," said Randy. "We're going to do our best to draw as much attention to the talented craftsmen as possible."
The 2023 SEMA Show will take place October 31 – November 3 at the Las Vegas Convention Center in Las Vegas, Nevada. Don't miss all the fun and excitement, as well as great opportunity to connect with trimmers, industry manufacturers and suppliers across the world.
To learn more about NC Carpet Binding & Equipment and check out their high-quality sewing machines, visit N-CCarpet.com and follow them on Instagram.  Also don't forget to tune in to NC's Podcast "NC Shop Talk."
To learn more about Moore & Giles, visit mooreandgiles.com/leather. Be sure to follow them on Instagram @mooreandgilesonthemove as well Randy @Rbestleather for exciting announcements, and car show and customer shop coverage like none other.
Related Stories: