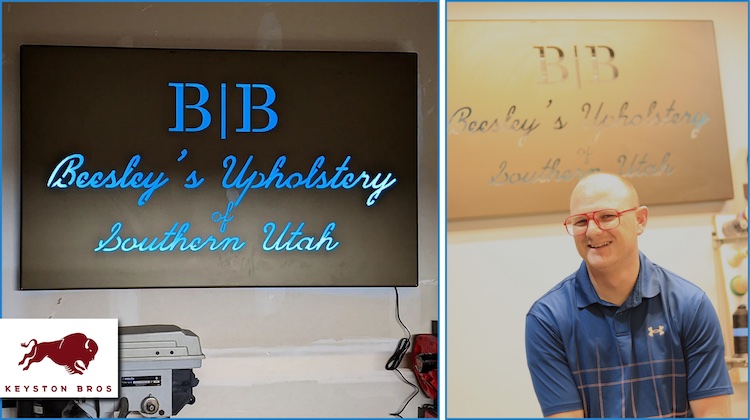 If you're looking for high-quality marine products, Keyston Bros has got you covered — including their Softside Marine and Neptune collections.
The Softside Marine Collection is the perfect go-to for all your marine needs. It's renown for comfort and durability, and is available in a wide range of colors and styles.
Keyston's Neptune marine vinyl is a premium-quality product exclusively from Keyston Bros. It's soft and supple to the touch and features a two-way stretch. Neptune provides best-in-class performance for marine and outdoor upholstery and offers a 3-year anti-pinking warranty.
But don't just take it from us. Brandon Beesley of Beesley's Upholstery in Cedar City, Utah, has been using Keyston's marine vinyls for years and swears by them.
"I'm a third-generation upholsterer, as it all started with my grandfather Fred Beesley at Beesley's Booths and Upholstery in Salt Lake City where he specialized in restaurant seating and table arrangements," Brandon said. "My Father continued on with the trade and has done more one-off projects of cars and boats just adding into the experiences I have grown up with. Now it's my turn to see where I can take this great trade with the Beesley name."
Beesley's Upholstery specializes in interior restoration, working with local car collectors and clubs, to get his projects just right. Of course, he also takes on a lot of marine and ATV projects as well.
Brandon trusts Keyston Bros for his materials and supplies, which are easy to order and always arrive quickly. Keyston is also excited to be working so closely with him.
"Brandon is not only a great guy, but a loyal customer too! We have known the Beesley family for a long time and appreciate them dearly as customers with Keyston Bros," said Steve Van Leeuwen, general manager for Keyston Bros' Salt Lake City branch.
Trust Keyston Bros for all your automotive, marine and awning needs and experience the quality and durability that they are known for. With 18 warehouses and branches across the United States, there's always a Keyston Bros location close by.
To learn more about Keyston Bros, and create a shop account, visit keystonbros.com. You can also follow them on Facebook and Instagram.
Related Stories: