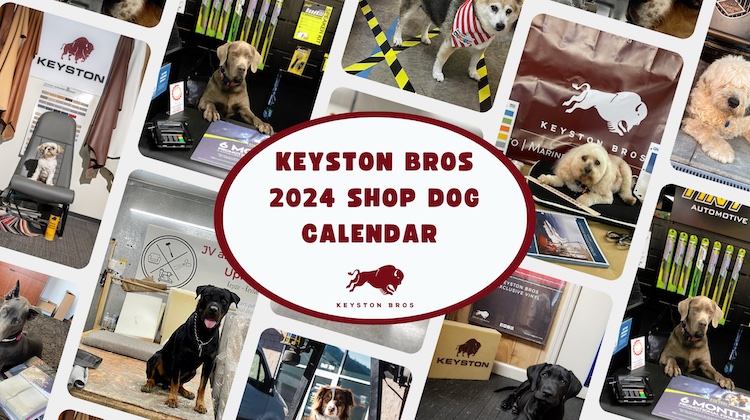 Most shops have a furry friend that loves to hang around and greet customers. Keyston Bros wants to highlight your pooch in its 2024 Shop Dog Calendar. All you need to do is snap and send a photo.
"We're so excited to publish the Shop Dog Calendar for an eighth year," said Brooke Kahn, Vice President of Marketing for Keyston Bros. "When I officially joined the company in 2013, Wilson, my furry companion, and I would make deliveries from the Atlanta warehouse. As a pup, he loved playing with all the dogs he met at all the upholstery shops — which is where the inspiration for the calendar came to light."
To be considered for inclusion, snap a horizontal photo of your dog on the job. This can be at the shop, at a Keyston's warehouse or when your dog is accompanying you on the road. You'll want to use a good camera to ensure the photo is high resolution and can be enlarged without getting blurry.
Submit your photo to shopdog@keystonbros.com by October 27, 2023.  Be sure to Include your dog's name, shop name and location.
If your photo is chosen for the calendar you'll receive $25 off one order of Keyston exclusive products. Other prizes include toys your furball will love!
"To see the smiles and joy dogs bring into our lives and during the work day is incredible, and by getting your photos, we can compile your furry, fuzzy, crazy pooches in one calendar to help spread that joy across the country," said Kahn.
Keyston Bros is your source for all upholstery related fabrics and supplies. With 18 warehouses and branches across the United States, there's always a location close by.
To learn more about Keyston Bros, and create a shop account, visit keystonbros.com. You can also follow them on Facebook and Instagram.
Related Stories: