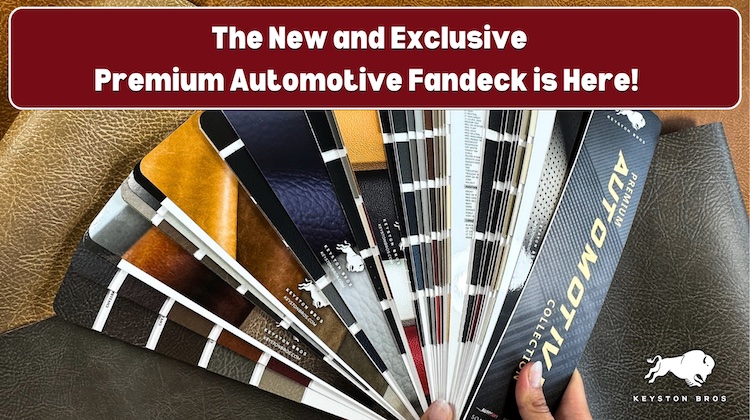 Keyston Bros just released a whole new fandeck featuring six exceptional vinyl lines that every auto upholstery shop needs to carry.
The fandeck, or sample set, includes Autosoft, Partners, Paloma, Soave, Burton and Cheyenne. These automotive vinyls look absolutely gorgeous and are durable enough to withstand the wear and tear of daily driving.
"To get your hands on a free fandeck, reach out to your local Keyston Bros branch," said Brooke Kahn, VP of marketing for Keyston Bros. "And don't forget to take advantage of our Hog Ring discount!"
That's right! For a limited time, members of The Hog Ring community can SAVE BIG on some of these premium fabrics. See below for details…
Need to match OEM leather or vinyl? No problem. Autosoft was developed to match specific late-year makes and models at a fraction of the cost. In fact, it's one of the leading premier leather / vinyl match programs on the market. Keyston Bros offers MB-4 perf and S-2000 mini-perf throughout the entire Autosoft leather and vinyl line.
Introduced in 1990, Partners is Keyston Bros' original automotive leather and vinyl match program. Over the years it has been expanded to include additional colors and perforations, including MB-4 and S-2000 mini-perf.
Paloma is the ultimate tight, smooth grain leather and vinyl program that is designed for hot rods, street rods, and high-end luxury cars and SUVS. The leather is produced from US steers that are finished in Italy and the vinyl has a unique microsuede backing.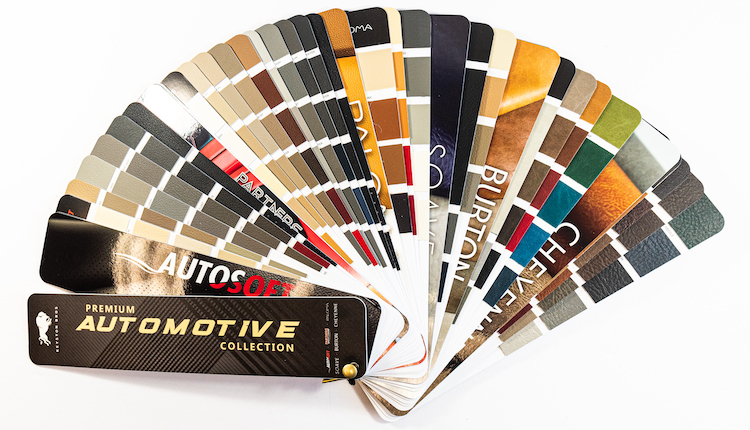 Soave is a proprietary faux leather that features a soft and supple microsuede backing. Soave looks and feels like leather but comes with the durability and price of a vinyl. It comes in 11 stunning colors and features a stain-resistant top coat. Soave is a great choice for automotive upholstery seating.
Burton is a beautiful, matte faux leather with a genuine, distressed look. Burton is a Keyston Bros exclusive material that is available in 17 colors. Not only is it stain resistant, but it has been tested to withstand more than 100,000 double rubs. Burton is a great choice for automotive applications.
Cheyenne is a gorgeous distressed faux leather with a non-repetitive grain, made to resemble rustic artisan leather hides. It's available in 19 colors, is stain resistant, and can withstand more than 400,000 double rubs. It's also an exclusive product and a winning choice for automotive upholstery projects.
Reach out to your local Keyston Bros. branch to receive a free Premium Automotive Fandeck today!
Discount for The Hog Ring Community!
Throughout August, use Code: HOGRING on keystonbros.com and enjoy:
Keyston Bros serves numerous markets, including automotive and marine. With 17 warehouses and branches across the United States, there's always a Keyston Bros location close by.
To learn more about Keyston Bros, and create a shop account, visit keystonbros.com. You can also follow them on Facebook and Instagram.
Related Stories: