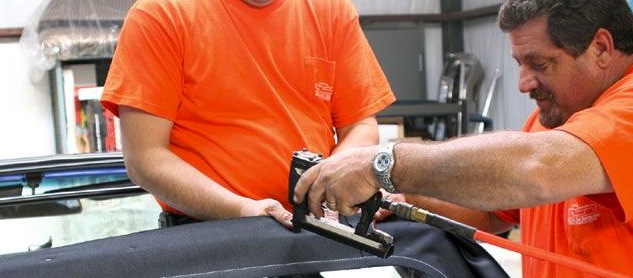 Installing convertible tops should always be left to professional auto trimmers. But sometimes even the pros can use some help. Unlike mechanic shops, we can't reference Chilton repair manuals for tips and advice, but if you look hard enough you may just find what you're looking for.
A good place to start is AOK Sales, LLC  – which sells vehicle-specific DVDs with detailed ragtop installation instructions. While their selection isn't vast, they do cover the most common cars. Check out their site and view their sample footage to see for yourself.
However, chances are you'll only need installation tips for less common vehicles. In which case, contact Hydo-E-Letric. They stock convertible-top manuals for most cars from 1955 and on. Need tips on installing a '59 Caddy ragtop? They can help.
If you need help with a new top that you can't find a DVD or manual for, try calling the company you bought the top from. The folks at Electron Top, for example, have experience in installing all the tops they sell and are always willing to teach you over the phone.
If you still find yourself at a dead end, check out The Hog Ring's "Auto Upholstery Forum" – where you can ask other auto trimmers for tips and advice. You'll be surprised by how many people are actually willing to help.
Otherwise, take advantage of search engines. The internet is vast and offers loads of helpful advice. Take, for instance, the following video I found on YouTube. It's part one of a 10-part series on how to install a convertible top on a Mercedes-Benz 500sl.