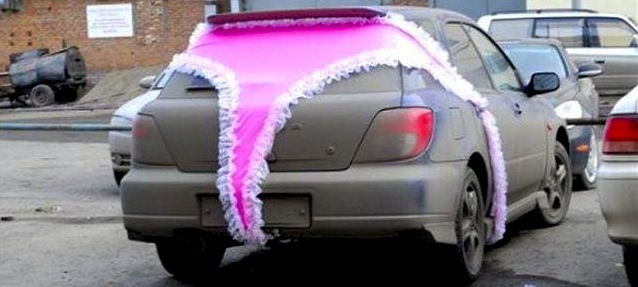 Front-end car bras? I've patched a few. But car thongs – that's an entirely different story. One that I'm pretty sure I don't want any part of.
According to Jalopnik, Harry Balz Novelties – the company known the world over for its manufacturing of Truck Nutz – is launching a line of car thongs.
Yes, sexy panties that your car wears.
Shockingly, they won't be the first to hit the market.
The website CarThongs.com has been selling vehicle panties, in a variety of colors, for quite some time. To the site's credit, they donate $2.00 for every thong sold to ovarian cancer research.
While car bras provide front-end protection from drivers who don't know how to parallel park, I can't image that car thongs do the same for the rear bumper. Vehicle granny panties maybe…
In any case, my shop won't be patching any holes in car underwear any time soon. Dignity aside, I wouldn't even know what to charge.
— — —
The Hog Ring is the #1 online community for auto upholstery professionals and enthusiasts. Here you can browse pictures, read news and connect with others who share your passion for auto upholstery. You can even check us out on Facebook and Twitter!