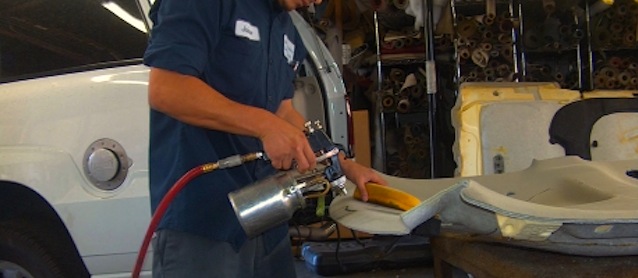 Dan Krawczyk of Three Rivers Supply Company recently sent a letter to all of his customers explaining a new regulation created by the Ozone Transport Commission (OTC) that affects nearly all trim shops on the East Coast. Shops that don't adhere to the new regulation may face legal penalties.
The OTC is a multi-state organization that's responsible for advising the US Environmental Protection Agency (EPA) on solutions to air pollution. Recently, it put into effect manufacturing restrictions to reduce volatile organic compounds (VOC) in sealants, primers and adhesives that contribute to poor air quality.
These VOCs are bad for the environment, but they're also a critical component of upholstery adhesives. In fact, it's the high content of VOCs that make our glue so sticky and resistant to high temperatures. The new rule, based on regulations already in effect in California, calls for a reduction from the current 600 grams of VOCs per liter to a mere 250 grams.
The result is an adhesive that is much weaker than what we auto trimmers need.
Still, shops can take advantage of "The Small Quantity Exception". This portion of the new regulation allows shops to use 55 gallons of high-level VOC adhesive per year. However, any amount over 55 gallons will need to be OTC-compliant glue.
To be eligible for this exemption, the regulation stipulates that shops must "record and maintain monthly operational records sufficient to demonstrate compliance".
Meanwhile, manufacturers and suppliers are struggling to develop new glue that will perform just as well as our current adhesives, but abide by the new regulation. In the meantime, we are being asked to use our glue in moderation and supplement with aerosol spray-can glue for jobs that don't require a lot of strength and heat resistance.
Below is a list of states impacted by the new regulation and when it goes into effect:
Connecticut: rule in effect
Delaware: rule in effect
District of Colombia: rule in effect
Maine: rule in effect
Maryland: rule in effect
Massachusetts: rule goes into effect May 1, 2012
New Hampshire: rule under development
New Jersey: rule in effect
New York: rule in effect
Pennsylvania: rule in effect
Rhode Island: rule in effect
Vermont: rule under development
Virginia: rule in effect
Now I'm all for reducing pollution, but as the owner of a trim shop based in Pennsylvania, high-level VOC glue is critical to my shop's success. Without it or an adequate substitute, I can't warranty my work. Can you imagine installing a vinyl top on a customer's car and having him return soon after because the glue wore off in the summer heat?
For a free quart sample of the new OTC-compliant glue, contact Three Rivers Supply Company.