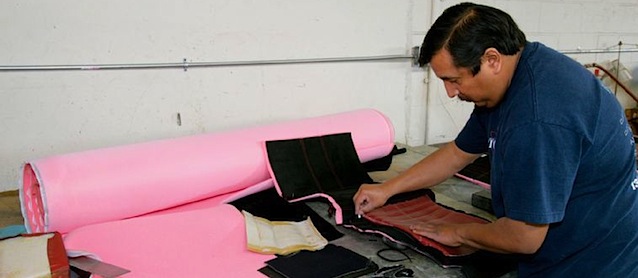 You may be under the impression that the types of foam your auto upholstery shop uses are flame retardant. But according to a recent study overseen by the Consumer Product Safety Commission, many flame-retardant foams ignite just as quickly and intensely as regular foam – a safety issue we should all be concerned about.
The Chicago Tribune explains:
[W]hen scientists in a government lab touched a small flame to a pair of upholstered chairs — one with a flame retardant in the foam and one without — both were engulfed in flames within four minutes.
"We did not find flame retardants in foam to provide any significant protection," said Dale Ray, a top official with the Consumer Product Safety Commission who oversaw the 2009 tests at a laboratory outside Washington.
Moreover, the amount of smoke from both chair fires was similar, Ray said, noting that most fire victims die of smoke inhalation, not the flames.
The previously undisclosed test results call into question the widespread use of flame retardants in household furniture. Some of those chemicals have been linked to cancer, neurological disorders and developmental problems.
Meanwhile, research is finding there are more effective ways to prevent furniture fires — using specially designed upholstery that resists smoldering cigarettes or adding fire-resistant barriers underneath the fabric. [more]
While the article focuses more on household applications of flame-retardant foams, it's every bit as relevant to upholstery shops that store a wide range of foams and flammable adhesives.
Minimize Fire Damage
Over the last two years, The Hog Ring has carried the sad news of a number of auto upholstery shops ruined by accidental fires. In fact, just this week Antioch Convertibles and Auto Upholstery of Pittsburgh, PA was reduced to ashes – leaving employees hurt and owners financially ruined.
One thing auto upholstery shops can do to minimize the damage caused by accidental fires is store foams (flame retardant or not), along with flammable liquids like paint and adhesive, in a locked outdoor shed a safe distance from their primary facilities.
Shops unable to do so, should consider purchasing flame-retardant tarps to lay over foams and adhesives. That way if a fire does break out, rescue crews have a bit more time to extinguish the flames before the entire business goes up in smoke.
And, of course, make sure your insurance coverage is comprehensive and paid up to date.