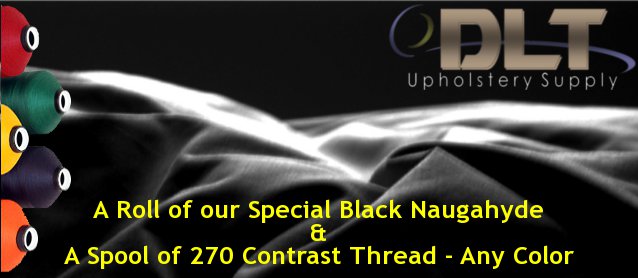 Last month, we partnered with DLT Upholstery Supply to give away 25 yards of black Naugahyde fabric and an 8 oz. spool of 270 contrast thread to the reader who left the best comment on our site. The contest did so well, that we brought it back!
The rules are simple. Read any article (new or old) on The Hog Ring and leave a comment. At the end of the week our editors will choose the best comment and send the person who wrote it the prizes.
Special thanks to DLT Upholstery Supply – one of the oldest and most diverse upholstery suppliers in America – for sponsoring this week's give away. We're particularly thrilled that DLT is allowing us to offer Naugahyde and 270 contrast thread as prizes. Both products generated loads of buzz on The Hog Ring in the past.
For those of you unfamiliar with DLT Upholstery Supply, we highly recommend that you check them out. Their products are of the highest quality and their customer service is unmatched. In fact, you can find DLT's president, Andrew Kahn, regularly answering questions and offering advice in The Hog Ring's Auto Upholstery Forum under the username "ahkahn1".
To learn more about DLT Upholstery Supply visit www.dltcorporation.com or contact one of their branches in Michigan, Illinois, Wisconsin or Kentucky (click for contact information).
The give away starts today and runs for two weeks. We'll announce a new winner every Monday. The more often you comment, the greater your chances of winning.